"I can't believe this scrub works as good as it does. I'm obsessed!" - Mariam
Regular price
$130.00 USD
Sale price
$90.00 USD
Unit price
per
Sale
Sold out
☑️ Fades Dark Spots
☑️ Brighten Your Complexion
☑️ Deals with razor bumps, butt acne & Scars
Revitalize your complexion with our all-in-one Lighten Up Kit, featuring a synergistic exfoliating scrub and spot corrector for radiant, even-toned skin.Say goodbye to dark spots, ingrown hairs, and uneven skin tone, safe for all skin types.Order now to embrace flawless skin and boost your inner confidence, while remembering to perform a patch test and use sunscreen.
Share
Benefits

Fading of dark spots and patches: With regular use of the brightening scrub and spot corrector, you can expect a gradual fading of dark spots and patches on the skin.

Improvement in skin tone:. With consistent use of the brightening cream, you can expect to see a reduction in the appearance of uneven skin tone.

Reduction in ingrown hair, razor bumps, and butt acne: The exfoliation helps remove dead skin cells and unclog pores, potentially minimizing these issues over time.
How to Use

Exfoliating Scrub:

Begin by using the Gentle Intimate and Full Body Brightening exfoliating scrub.
Apply the scrub to the bikini area or any other desired areas with dark spots, patches, or uneven skin tone.
Gently massage the scrub onto the skin in circular motions.
Rinse off the scrub thoroughly with water.
Pat the skin dry.

Spot Corrector/Brightening Cream:

After exfoliating with the scrub, apply the spot corrector or brightening cream to the bikini area or other areas where you desire an even skin tone.
Massage the cream into the skin until it is fully absorbed.
If you are using the product for skin lightening purposes, apply the brightening cream twice a day, every day, until you achieve your desired skin tone.
If you are using the product for daily moisturization and to address skin discoloration, apply the cream as a daily moisturizer to the face, neck, elbows, scars, knees, underarms, and other areas with uneven skin tone.
Use the cream for 3-4 weeks to achieve the best skin lightening results.
Ingredients

Exfoliating Scrub -

Sodium Chloride (Salt):  Makes skin fresher and smoother. 

Glycerin: Keeps skin hydrated and soft

Vitamin B3 (Niacinamide): Gives the skin a more youthful look.

Collagen: Reduces the appearance of wrinkles

Vitamin E (Tocopheryl Acetate): Improves skin texture.

Vitamin C & E Brightening Moisturizer:

Lemon essential oil: It contains natural bleaching and exfoliating properties, helping to brighten the skin tone, reduce dark spots, and even out hyperpigmentation.

Vitamin C: As a potent antioxidant, vitamin C aids in reducing the appearance of dark spots, promoting a more radiant complexion, and protecting the skin from environmental damage.

Coconut oil: A rich source of fatty acids, coconut oil provides deep hydration, nourishment, and moisture to the skin, keeping it soft and supple.

Glycerin: This humectant attracts and retains moisture in the skin, enhancing hydration and preventing dryness.

Olive oil: Packed with antioxidants and fatty acids, olive oil helps nourish and protect the skin, leaving it smooth and moisturized.


Contains No Harmful Chemicals/Preservatives/Animal Products100% cruelty free
Safety

Potential side effects: First-time users may experience itchiness or redness due to the skin changing color. This can be a temporary reaction to the product. However, if you experience burning, irritation, or any other adverse reactions, it is advised to discontinue product usage.
View full details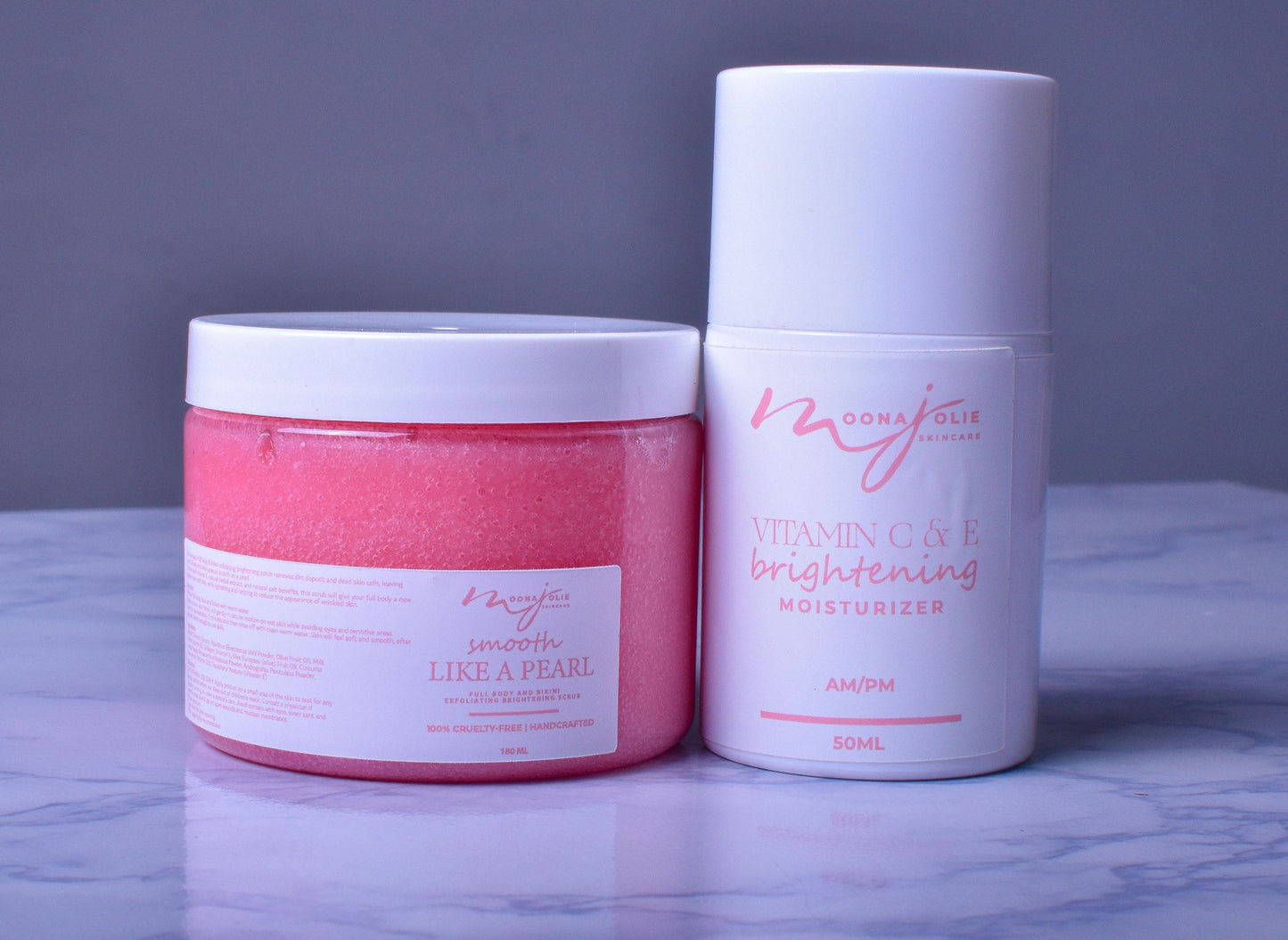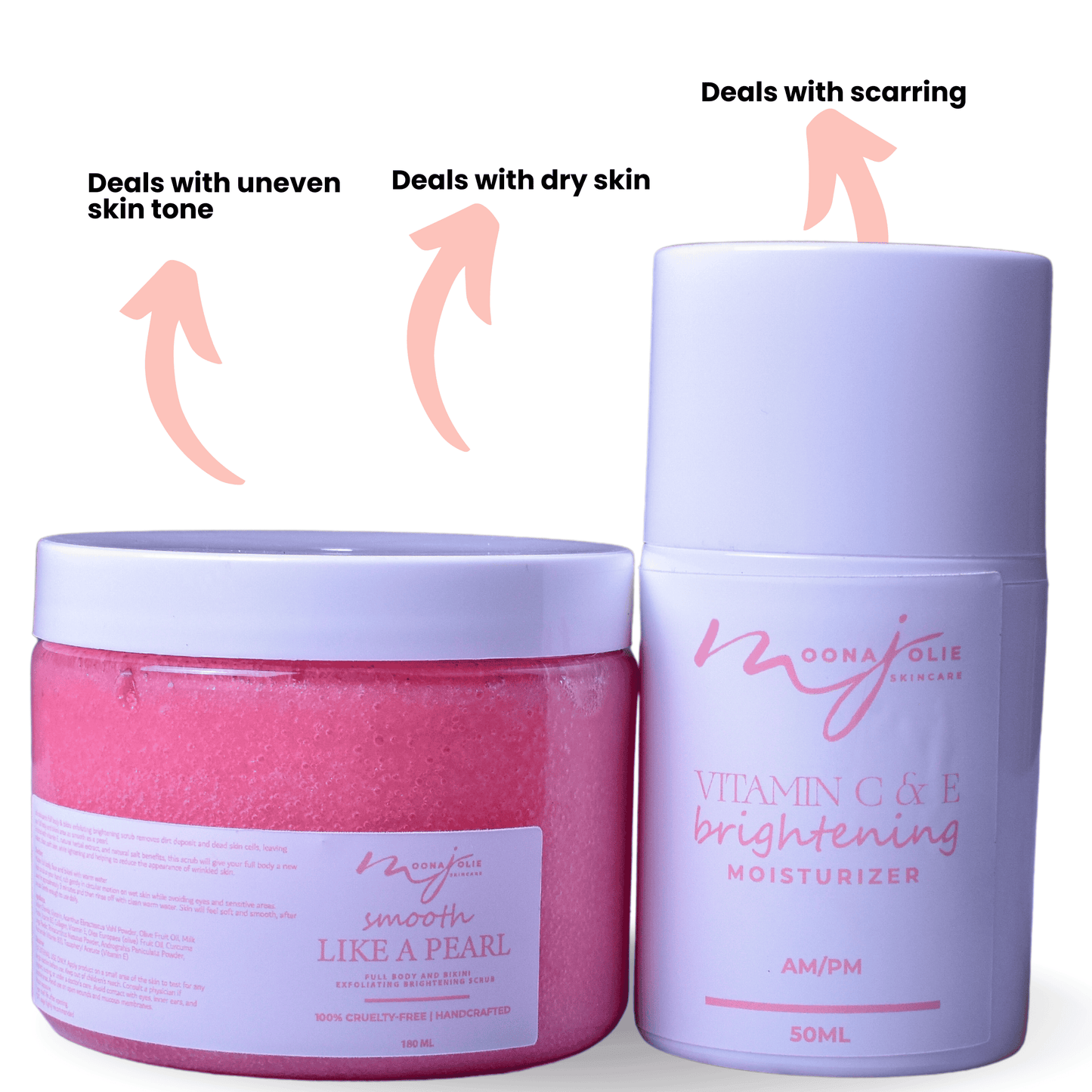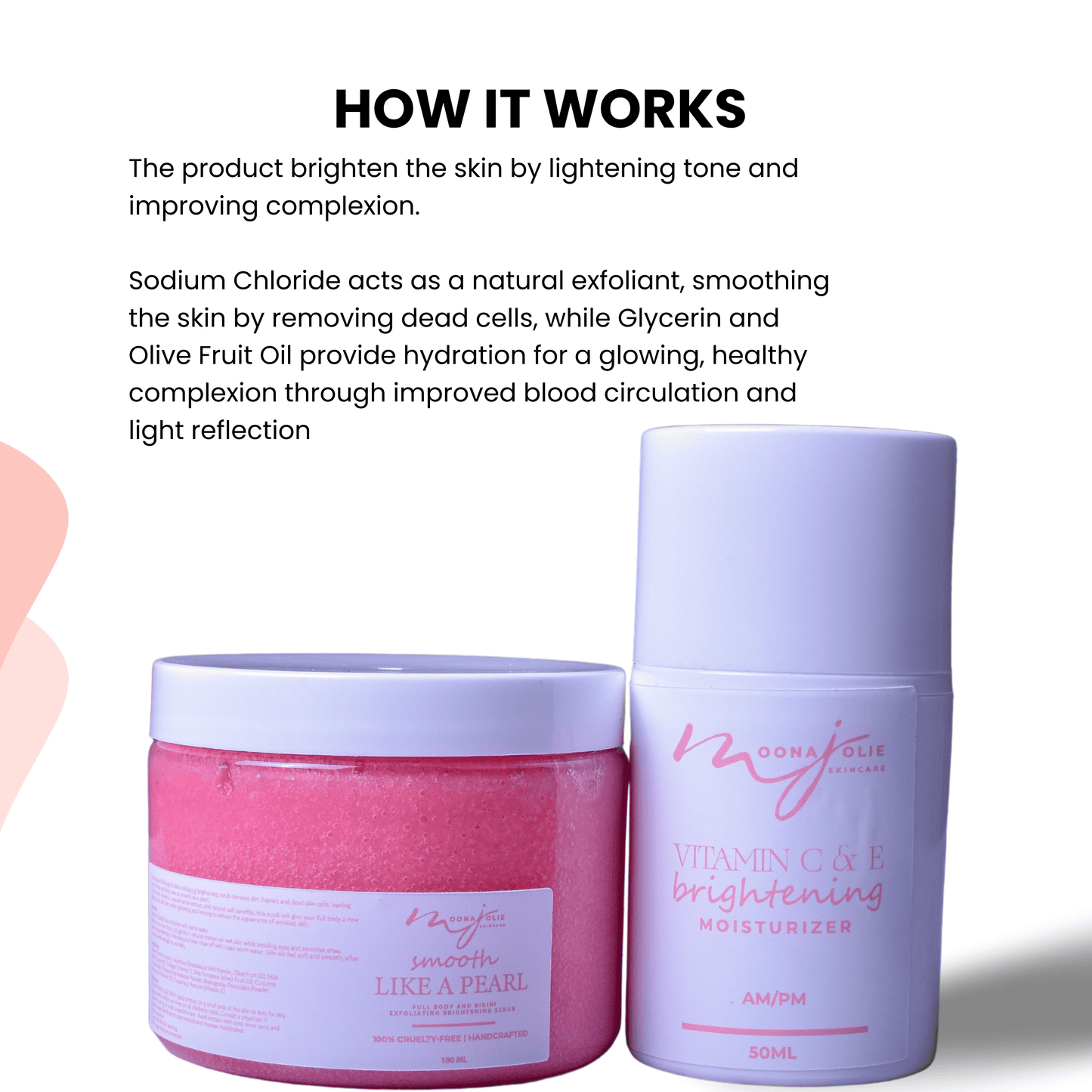 Jayla - ⭐⭐⭐⭐⭐

"If I could give 20 stars, I would. This kit works wonders INSTANTLY. I dealt with discoloration and acne before, but now my skin is so clear and smooth even when I have a slight outbreak. Invest ladies, I swear it's worth it!!"

Oumou - ⭐⭐⭐⭐⭐

"I started off using the smaller bottle and seen that you offer the big one now and I am so happy. I have terrible acne, and dark spot all over my back and thighs and seen so much improvement in like 2 weeks!"

Aree - ⭐⭐⭐⭐⭐

"My skin, face look absolutely flawless. My mom started using it and we're both in love! No such thing as hyperpigmentation with this soap at all"
Frequently asked questions
Can this product be used on sensitive skin?

Yes, our Lighten Up Kit is designed to be safe and effective for all skin types, including sensitive skin. However, we recommend performing a patch test before use to ensure there are no adverse reactions. If you experience any discomfort or irritation, discontinue use.
How long does it take to see results?

Results may vary depending on individual factors such as skin type and the severity of the condition. With consistent use of our Lighten Up Kit, you can start seeing improvements in as little as a few weeks.

For optimal skin lightening results, we recommend using both the brightening scrub and cream for 3-4 weeks. Remember, patience is key for achieving the desired outcome.
Are there any potential side effects?

While our Lighten Up Kit is generally well-tolerated, some users may experience temporary itchiness or redness due to the skin adjusting to the product. This is normal and should subside over time.

However, if you experience any burning, severe irritation, or other adverse reactions, discontinue use and consult a healthcare professional.
Can I use this product on my bikini area and other intimate parts?

Absolutely! Our Lighten Up Kit is formulated to be safe and gentle for use on intimate areas.

The brightening scrub and cream are specifically designed to address dark marks, ingrown hair, and razor bumps in the bikini area. Follow the instructions provided for best results in these sensitive areas.
Do I need to use sunscreen with this product?

Yes, it is highly recommended to use sunscreen in conjunction with our Lighten Up Kit.

Skin brightening products can make the skin more sensitive to UV radiation, so applying sunscreen will help protect your skin from harmful sun exposure.

Remember to choose a broad-spectrum sunscreen with adequate SPF and reapply as needed.