"This has boost my confidence level so much. Like HUHHHHHH, im that girl now. Like what is foundation this Skin is SKINNINGGGGG" - Ariel
Regular price
$150.00 USD
Regular price
$225.00 USD
Sale price
$150.00 USD
Unit price
per
Sale
Sold out
☑️ Corrects uneven skin tone
☑️ Reduces razor bumps around bikini area
☑️ Clears skin blemishes around bikini area
Say goodbye to bikini area blemishes with our 3-step skincare routine. Start with our brightening scrub, then apply our pigmentation-targeting cream, and finish with our balancing bikini cream. Use twice daily for 3-4 weeks for noticeable results. Perform a patch test first and heed potential skin irritation.
Share
Benefits

Exfoliation Process: The brightening scrub aims to make your skin smoother by removing dead cells and reducing razor bumps.

Lightening of Dark Marks: The brightening cream is formulated to gradually lighten dark marks by inhibiting melanin production.

Color Transformation: Continued use of the brightening and bikini creams will work together to balance and even out your skin tone.

Improvement in Confidence: As blemishes fade and skin tone evens, expect a boost in confidence, especially when wearing swimwear.
How to Use

Exfoliation: Dampen your bikini area, apply a small amount of brightening scrub, massage in a circular motion, rinse, and pat dry.
Application of Brightening Cream: Once dry, evenly apply a generous amount of brightening cream to the bikini area.
Application of Bikini Cream: Follow with the bikini cream to help even out your new skin tone.
Frequency and Duration of Use: Use both products twice daily for 3-4 weeks to achieve the desired skin tone.
Ingredients

Alpha Hydroxy Acids: AHAs promote cell turnover by removing dead skin cells, aiding in the reduction of razor bumps and blemishes.

Vitamin C: This antioxidant neutralizes free radicals and inhibits melanin production, reducing dark spots and evening skin tone.

Niacinamide: Known for reducing inflammation and lightening pigmentation, it improves overall skin tone.

Kojic Acid: This ingredient inhibits melanin production, lightening the skin and reducing dark marks and blemishes.

Aloe Vera: Offers soothing and anti-inflammatory properties, calming skin post-exfoliation and reducing redness from shaving.
Safety

Caution: This product is for external use only. Please perform a patch test before applying fully. Pregnant, nursing individuals, or those under a doctor's care should consult a physician before use.

Avoid contact with eyes, inner ears, and sensitive areas. Sun exposure should be minimized when using this product, always apply sunscreen.
View full details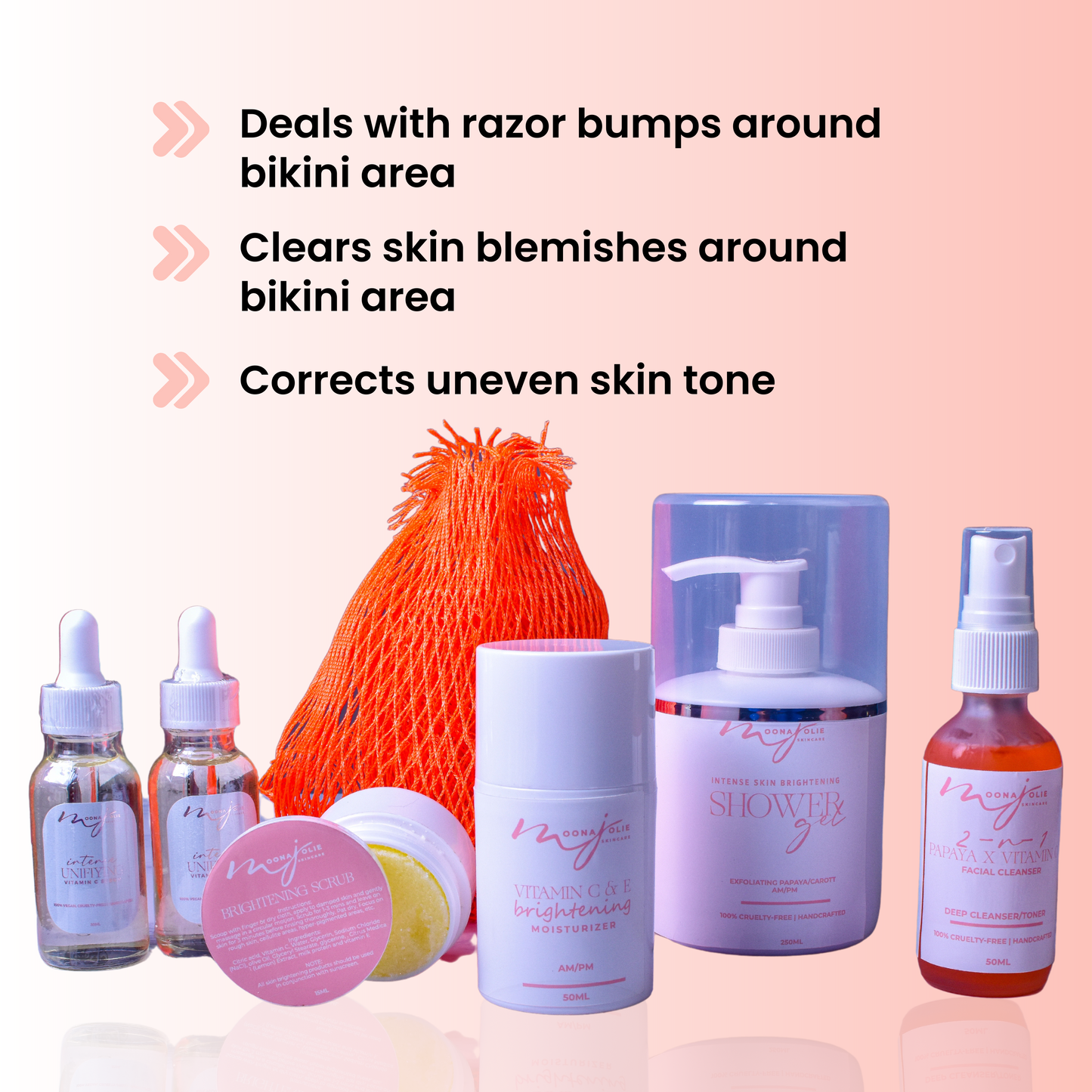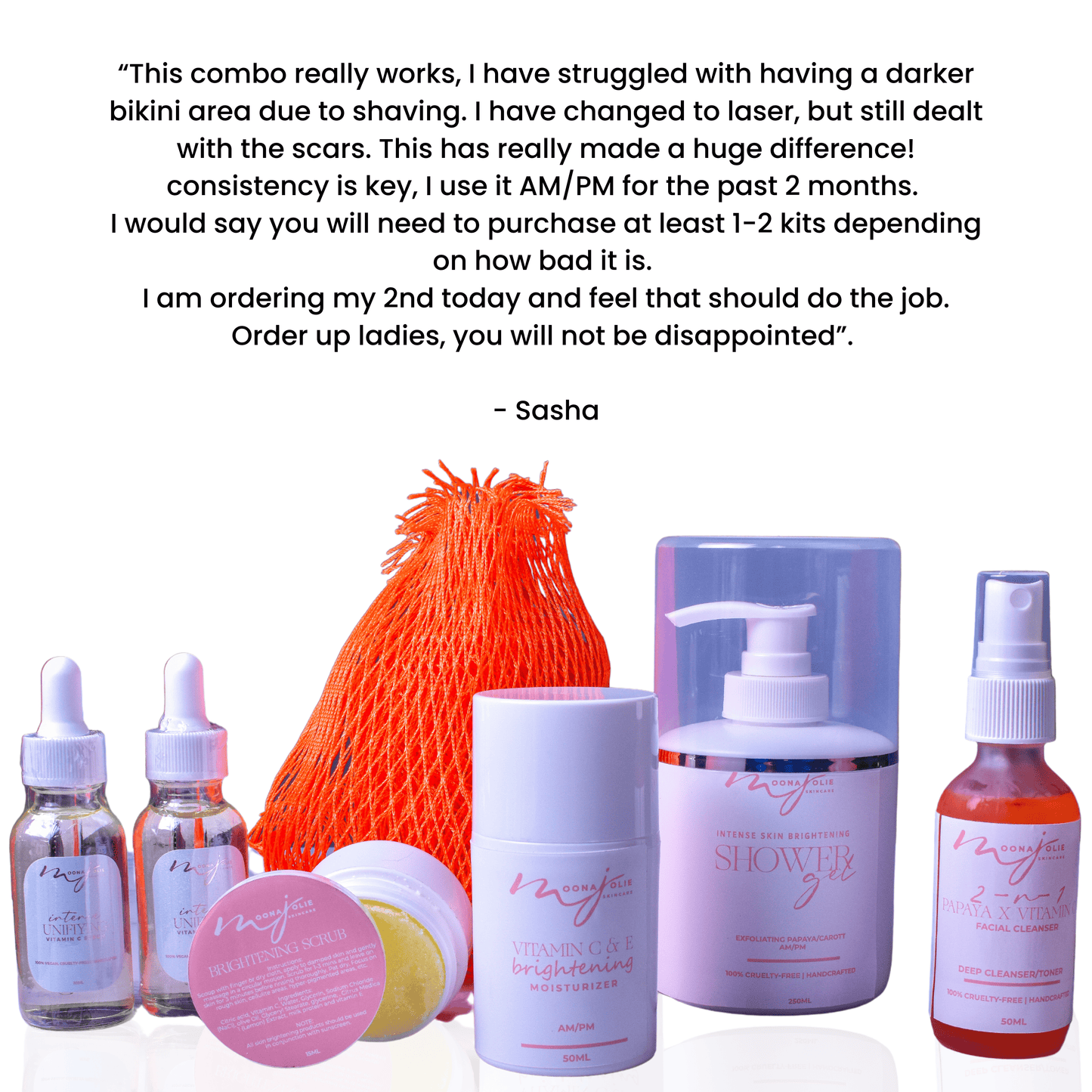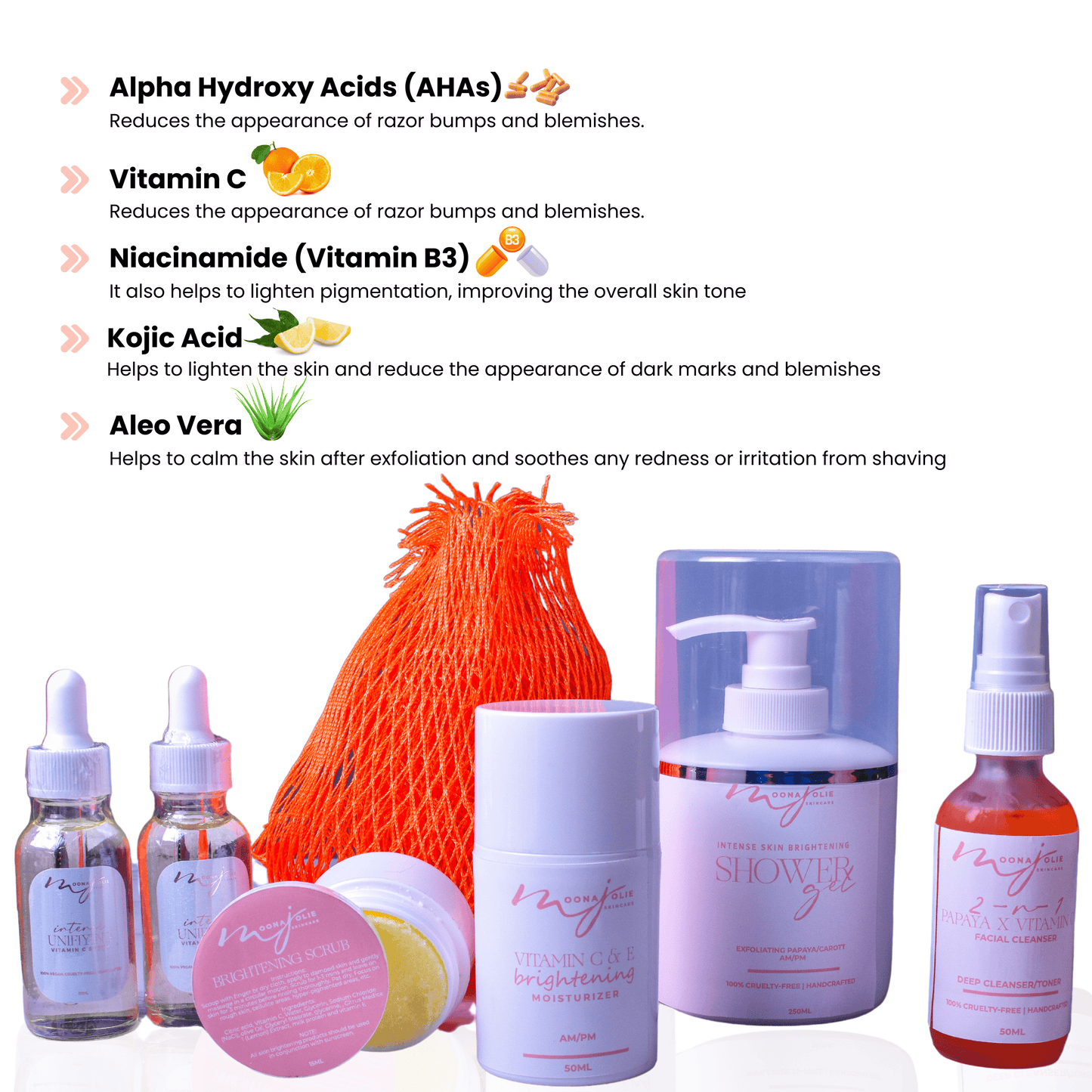 Keke Ocasio - ⭐⭐⭐⭐⭐

"This cream works very, very well. I notice a difference right away within the first week. It doesn't irritate my skin or causes acne. It smells nice, and it spreads well. I the texture is smooth. Definitely recommend, for dark spots, scars, nipples, or for a brighter complexion."

Keisha Rocque - ⭐⭐⭐⭐

"This product is great for sensitive skin. I used it for my face and it helped clear it up. I also tried it on my face specifically my back for the dark spots from acne and it helped but it did cause it to get a little dry and peeled. Overall very satisfied. "

Amanda Pitenis - ⭐⭐⭐⭐⭐

"This product works wonders. I showed a friend my before and after photos and she thought I was pulling a prank on her and said I was not showing her pictures of the same individual."
Frequently asked questions
How often should I use this product?

You should use this 3-step skin care routine twice a day, every day, until the desired skin tone is achieved. For the best skin lightening results, continue using both products for 3-4 weeks.
Can I use soap to clean the bikini area while using this product?

While your skin is undergoing its transformation, you should avoid washing the treated area with soap as it can interfere with the product's action. Stick to the provided brightening scrub for cleansing the bikini area during this period.
What should I do if I experience burning or severe irritation?

If you experience burning, severe irritation, or any discomfort beyond mild itchiness or redness, you should discontinue use immediately. You are advised to perform a patch test before applying the product fully to avoid potential allergic reactions.
Can I use this product while pregnant or nursing?

If you are pregnant, nursing, or under a doctor's care, you should consult your physician before using this product.
Can I go out in the sun while using this product?

Sun exposure should be minimized when using this product as skin-lightening treatments can make your skin more sensitive to the sun. Always apply sunscreen to protect the treated areas from UV rays.