"I have been using it for about a year now. I smoke all the time and I don't worry about my lips being purple anymore" - Daj
Regular price
Sale price
$70.00 USD
Unit price
per
Sale
Sold out
☑️ Clears with discoloured lips
☑️ Moisturises dry lips
☑️ Clears hyperpigmentation
Jolie's lip kit is the perfect two step kit for getting your lips pink. Our lip scrub exfoliates and softens lips, leaving them smooth. The lip cream lightens, nourishes, softens and moisturizes your lips. Great for smokers wishing to have perfect pink lips and also great for getting rid of fine lines and wrinkles and lightening around the mouth.
Share
Benefits

Brighter Lips: Lightens lips, targets discoloration for a natural pink hue.


Improved Texture: Infused with jojoba oil, cocoa butter, and Vitamin E for softness.


Reduced Hyperpigmentation: Contains niacinamide and kojic acid for even lip color.


Hydration: Jojoba oil and cocoa butter ensure lips stay moisturized.


Antioxidant Protection: Vitamins E and C shield against environmental damage.


Enhanced Makeup Application: Acts as an ideal lip makeup base.
How to Use

To use Jolie's Lip Kit follow these steps:

Step #1 - Apply brightening scrub to thoroughly exfoliate lips. Leave on for 2-3 mins.

(Works best with our Lip Exfoliating Brush. )

Step #2 - Rinse Off

Step #3 - Apply Lip Brightening Cream 

Apply lip kit at least 2-3 times daily throughout the day anytime the lips need moisture and after cleansing the lips.
Ingredients

Jolie Lip Brightening Cream

Cocoa Butter, Niacinamide, Jojoba oil, Kojic acid, Alpha Arbutin, and Beetroot, Vitamin C, Vitamin E

Brightening Scrub:

Citrus Extracts (Lemon, Orange), Apple Extract, Soybean Oil, Milk Protein, Vitamin E
View full details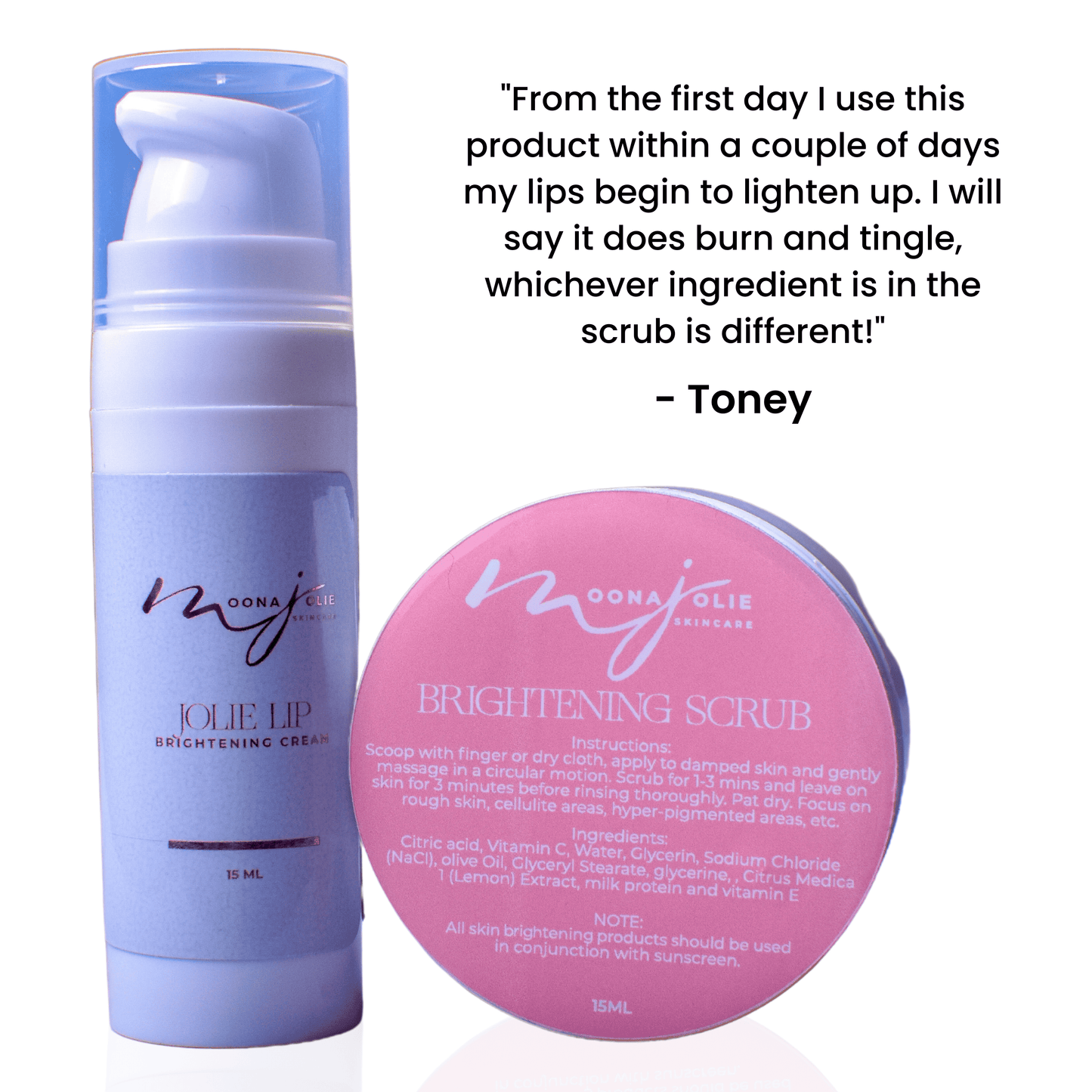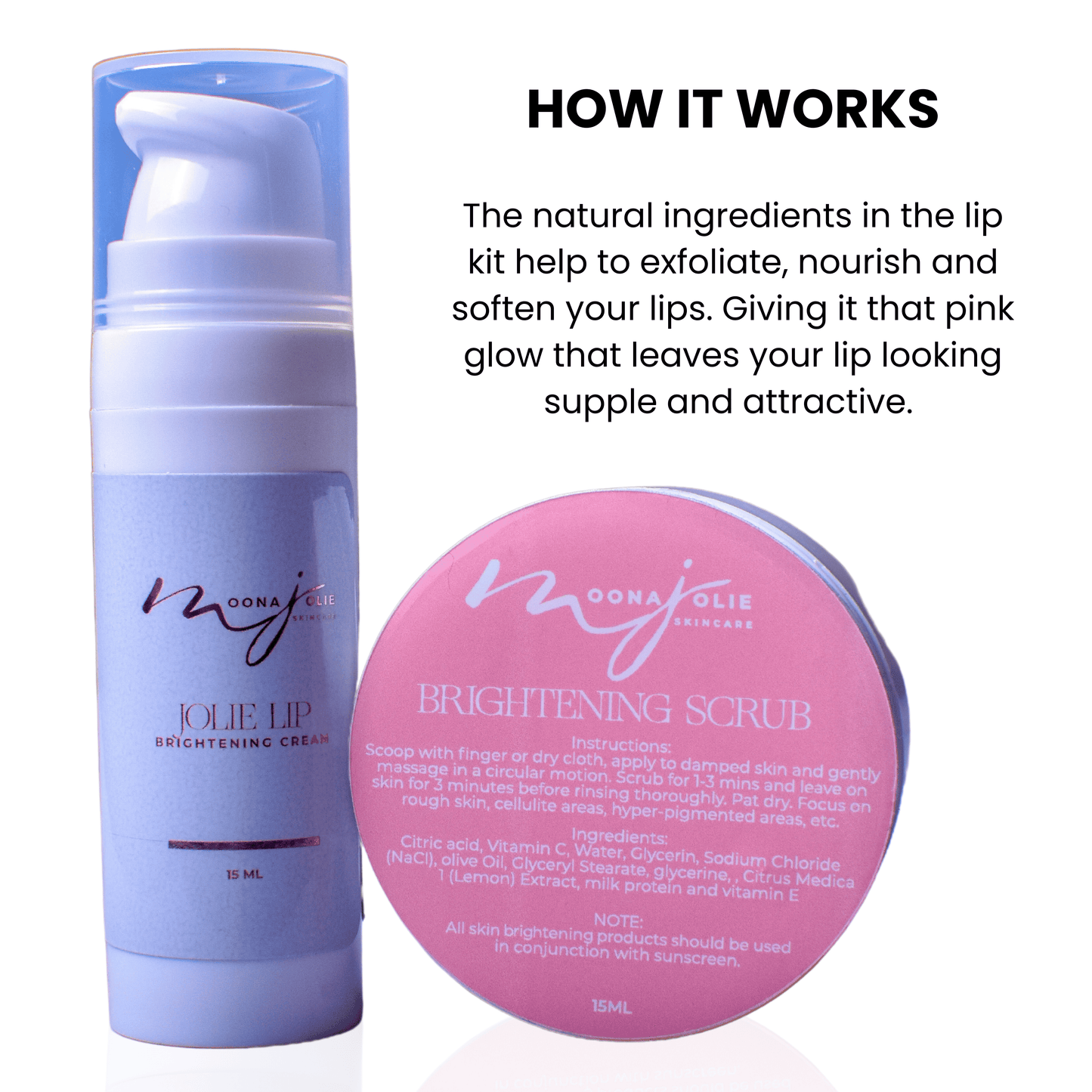 Tonay - ⭐⭐⭐⭐⭐

"From the first day I use this product within a couple of days my lips begin to lighten up. I will say it does burn and tingle, whichever ingredient is in the scrub is different!"

Daj - ⭐⭐⭐⭐

"I took the skin quiz on your site and it led me to this, and I have been using it for about a year now. I smoke all the time and I don't worry about my lips being purple anymore"

Mariah - ⭐⭐⭐⭐⭐

"I've ordered the scrub about 3 times so far as sooon I run out I order some more. I see results as quick as 4 days. I use to smoke a lot so my lips had gotten really dark and this has been my go to!! I've been putting all my friends on."
Frequently asked questions
How does Jolie's Exfoliating Brightening Scrub work?

Our scrub works by gently exfoliating the skin, removing debris that dulls the complexion and promoting a brighter, more even skin tone. It contains powerful ingredients like citrus extracts, apple extract, soybean oil, milk protein, and vitamin E, which work together to refine the skin's texture, reduce dark spots and hyperpigmentation, and enhance your skin's radiance.
Can this scrub help with dark spots and hyperpigmentation?

Yes! Jolie's Exfoliating Brightening Scrub is specially formulated to address dark spots and hyperpigmentation. Through exfoliation and the use of targeted ingredients, the scrub can help reduce the appearance of these skin concerns, resulting in a more balanced and even complexion over time.
Will this product make my skin glow?

Absolutely! Our scrub is designed to enhance your skin's natural glow. By exfoliating away dead skin cells and nourishing the skin with ingredients like citrus extracts, soybean oil, and milk protein, it helps unveil a radiant complexion. With consistent use, you can expect your skin to have a healthy and luminous glow.
Can I use this scrub if I have sensitive skin?

While Jolie's Exfoliating Brightening Scrub is generally suitable for most skin types, it is important to be cautious if you have sensitive skin. Avoid using the scrub on cuts or delicate areas, and refrain from exfoliating if your skin is sunburned or already irritated. Perform a patch test before use and discontinue if any adverse reactions occur.
How often should I use the scrub?

For best results, use the scrub 2-3 times per week. Over-exfoliation can irritate the skin, so it's important to give your skin time to rest and recover between each use.

Adjust the frequency based on your skin's response, and always listen to your skin's needs.
Can I use this scrub on my face and body?

Yes, Jolie's Exfoliating Brightening Scrub is suitable for both the face and body. You can use it to target rough skin, cellulite-prone areas, hyperpigmented areas, or any other specific concerns you may have.

Remember to use gentle circular motions during application and rinse off thoroughly after scrubbing.
Is this product cruelty-free?

Yes, Jolie's Exfoliating Brightening Scrub is cruelty-free.

We do not test our products on animals, and we prioritize ethical and responsible practices in our manufacturing processes.