"Definitely worth it makes your skin so soft and looks so bright and moisturized." - Alex L.
Regular price
Sale price
$15.00 USD
Unit price
per
Sale
Sold out
☑️ Reduces acne & inflammation
☑️ Improves hair quality
☑️ Boost eyelash & brows growth
Discover the benefits of 100% pure castor oil for skin, hair, and lashes. From fighting acne to nourishing hair, its natural compounds provide a range of solutions. It's a single-ingredient wonder for radiant skin and luscious locks.
Share
Benefits

Acne and Skin Inflammation: Castor oil's anti-inflammatory and antibacterial properties may reduce acne and skin inflammation.

Improved Hair Quality: Nourishing fatty acids in castor oil can make hair shinier, softer, and less frizzy.

Eyelash and Eyebrow Growth: Ricinoleic acid in the oil may stimulate fuller, longer eyelashes and eyebrows over time.

Dry Skin: Castor oil acts as a natural emollient, improving skin hydration.
Ingredients

- > 100% Organic Castor Oil

Here are the key nutrients found in castor oil:

Ricinoleic Acid: Reduces skin inflammation and acne.


Omega-6 and Omega-9 Fatty Acids: Improve hair quality by moisturizing and reducing frizz.


Vitamin E: Protects skin from environmental stressors and moisturizes.


Minerals: Contribute
View full details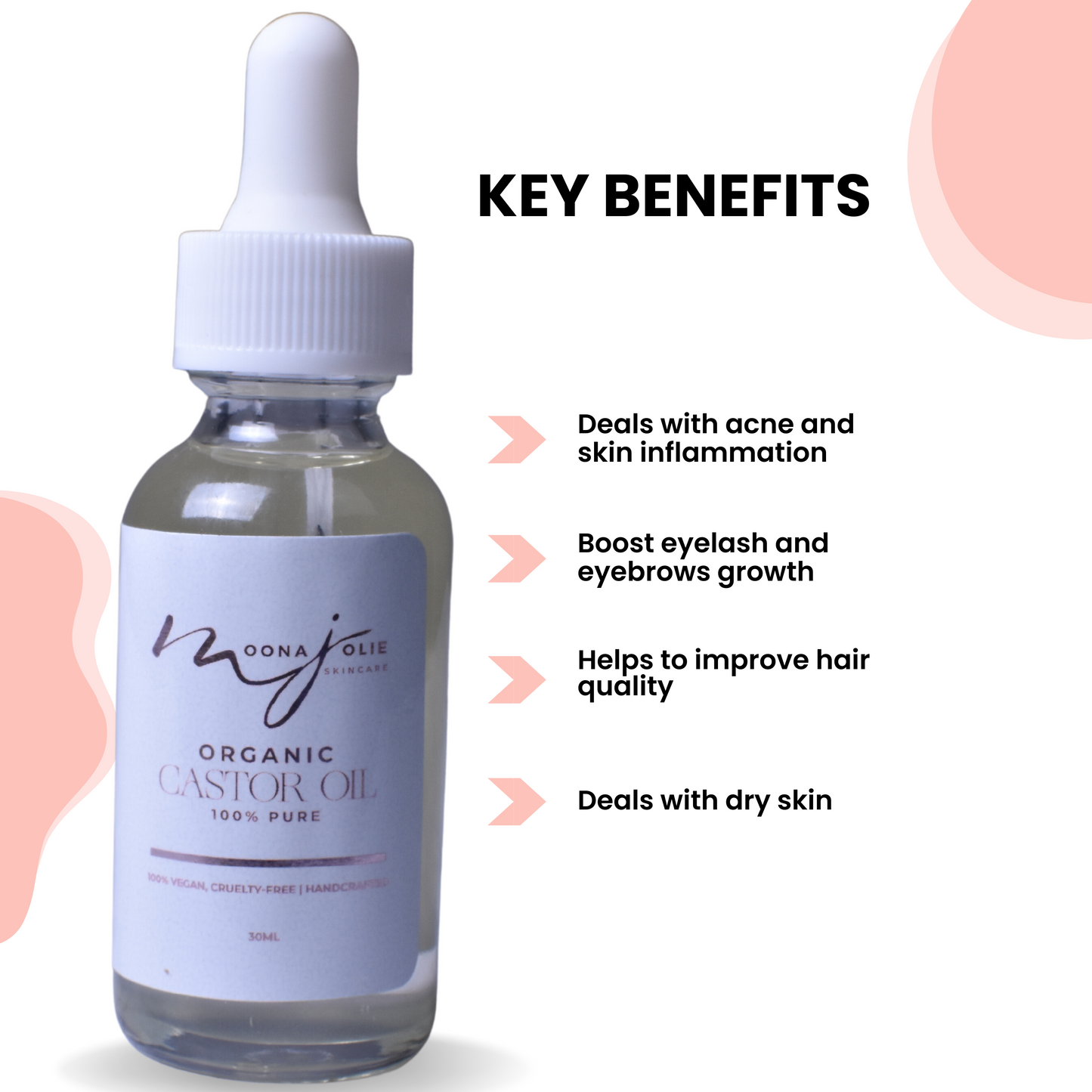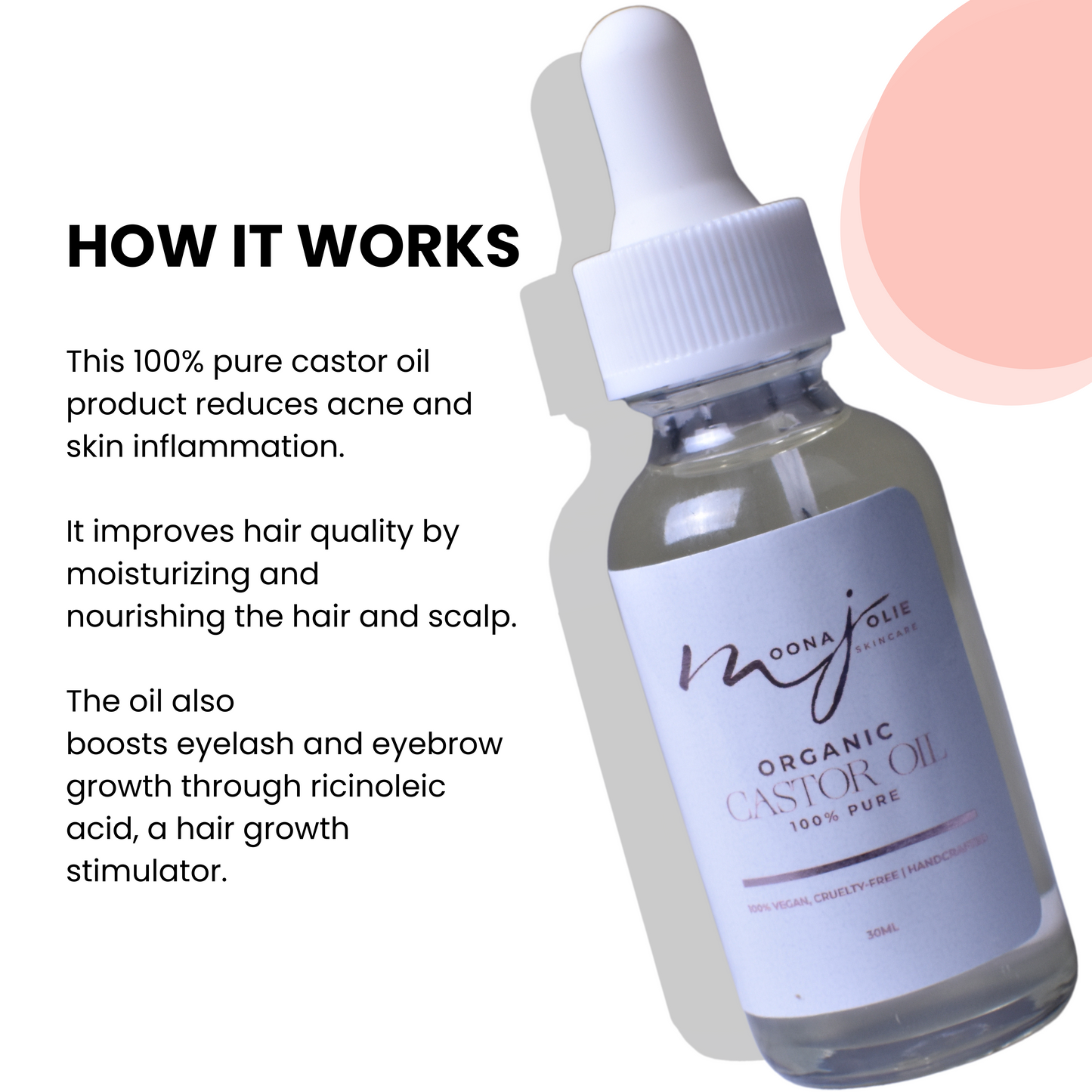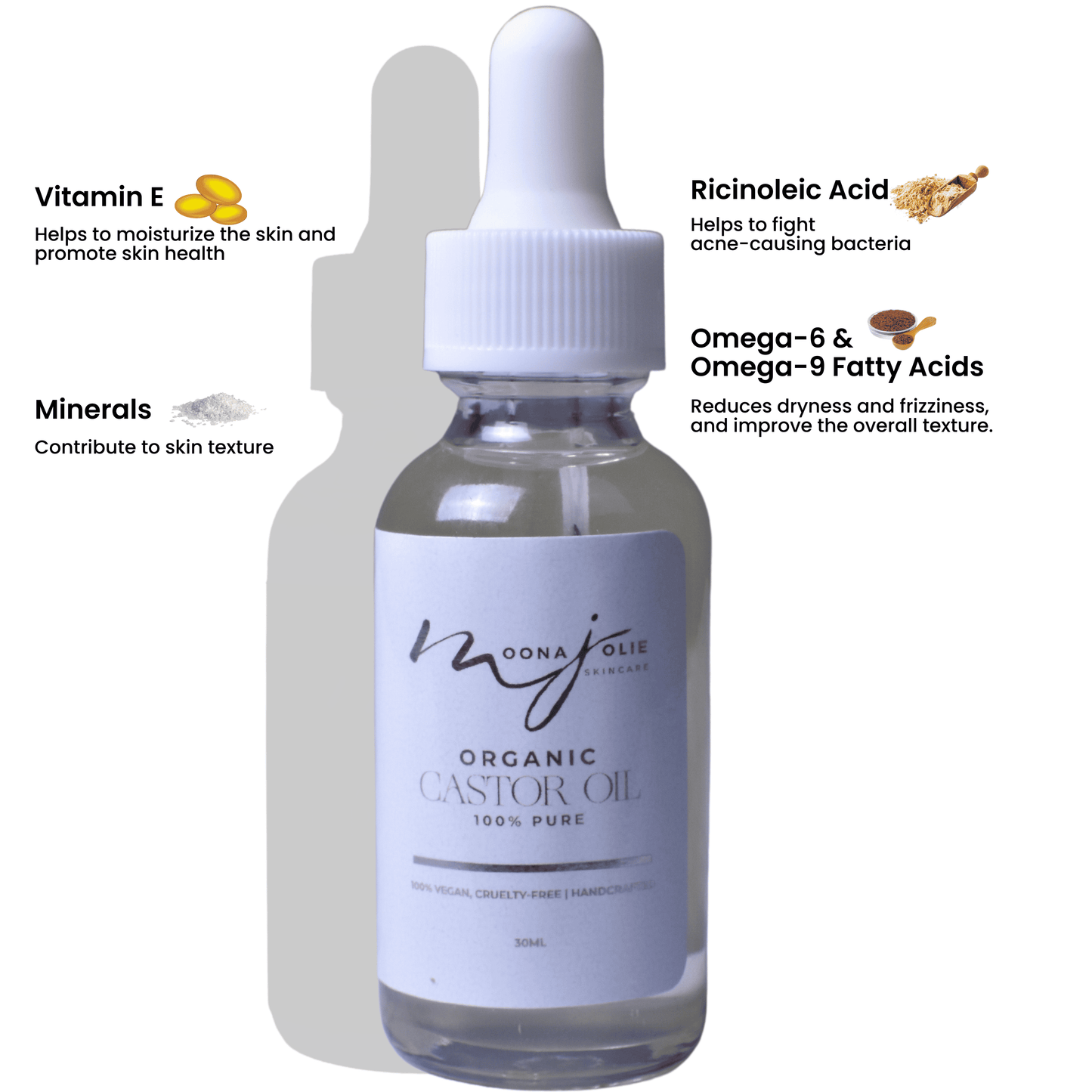 Keke Ocasio - ⭐⭐⭐⭐⭐

"I can't say enough good things about this product. My daughter gave me this brightening kit and I quickly ordered more. It did take a few weeks of consistent application but I saw a noticeable difference in a few week!"

Keisha Rocque - ⭐⭐⭐⭐

"This product is great for sensitive skin. I used it for my face and it helped clear it up. I also tried it on my face specifically my back for the dark spots from acne and it helped but it did cause it to get a little dry and peeled. Overall very satisfied. "

Amanda Pitenis - ⭐⭐⭐⭐⭐

"This product works wonders. I showed a friend my before and after photos and she thought I was pulling a prank on her and said I was not showing her pictures of the same individual."
Frequently asked questions
How quickly can I expect to see results with this product?

The timeline to see results can vary depending on the individual and the issue being addressed. For conditions like dry skin, you might see an immediate improvement in hydration and softness.

For acne, hair quality, and growth of eyelashes and eyebrows, it usually requires regular use over a period of weeks or even months to see significant results. Remember, patience and consistent use are key to achieving the desired outcome.
Can I use castor oil on my scalp and hair?

Absolutely! Castor oil is rich in omega-6 and omega-9 fatty acids which are beneficial for the health and quality of your hair.

Apply a small amount to your scalp and hair to reduce frizz and add shine. You can leave it in for a few hours or even overnight before washing it out.
Is it safe to leave castor oil on my eyelashes and eyebrows overnight?

Yes, it is generally safe to apply castor oil to your eyelashes and eyebrows and leave it on overnight. However, ensure that you apply it carefully to avoid getting it into your eyes. If the oil does get into your eyes, rinse thoroughly with water.
What should I do if I have an allergic reaction to the product?

If you experience an allergic reaction, such as redness, itching, burning, or rash, discontinue use of the product immediately.

If the reaction is severe or persists, consult with a healthcare professional as soon as possible.

As a precaution, we always recommend performing a patch test before using any new skincare product.