"When I say my dark spots have vanished! Like they are completely gone, this product is the TRUTH!" - Amber
Regular price
$45.00 USD
Sale price
$45.00 USD
Unit price
per
Sale
Sold out
☑️ Deals with dark spots
☑️ Clears stretch marks
☑️ Removes hyperpigmentation 
Our unique blend diminishes hyperpigmentation, dark spots, and stretch marks, revealing an even-toned complexion. For best results, apply twice daily and pair with SPF 50 sunscreen. Experience the magic and unveil your skin's true beauty with Jolie's Skincare
Share
Benefits

Improved skin tone: The lotion's blend, including glycolic acid and various extracts, targets hyperpigmentation and dark spots for an even tone.

Faded dark spots: Glycolic acid and Vitamin C synergize to fade spots, yielding a uniform complexion.

Enhanced skin texture: Glycolic acid promotes cell turnover, refining skin and minimizing pores.

Increased skin hydration: Aloe and coconut oil moisturize, making skin feel supple.

Radiant skin: Antioxidants like Vitamins C and E shield against damage, revealing brighter, youthful skin.
How to Use

#1 Cleanse your skin: Wash and pat dry to remove dirt and impurities.

#2 Apply the lotion: Massage onto your face and body, focusing on problem areas.

#3 Use twice daily: Apply both morning and night for best results.
Ingredients

Glycolic Acid: Exfoliates skin, lightens dark spots, and improves texture.

Vitamin C: Brightens skin, evens tone, fades hyperpigmentation, and boosts collagen.

Vitamin E: Shields from oxidative damage, promotes healing, and moisturizes.

Aloe Barbadensis Leaf Juice: Soothes, reduces redness, and hydrates.

Coconut Oil: Naturally moisturizes and ensures smooth skin.

Citrus Extracts: Rich in antioxidants, brightens, and clarifies skin.

Licorice Extract: Lightens skin and reduces hyperpigmentation.

White Mulberry Extract: Enhances skin brightness and reduces dark spots.
Safety

Store in the refrigerator: For a cooling effect and extended shelf life.

Sun protection: Use SPF 50 sunscreen post-application to prevent discoloration.
View full details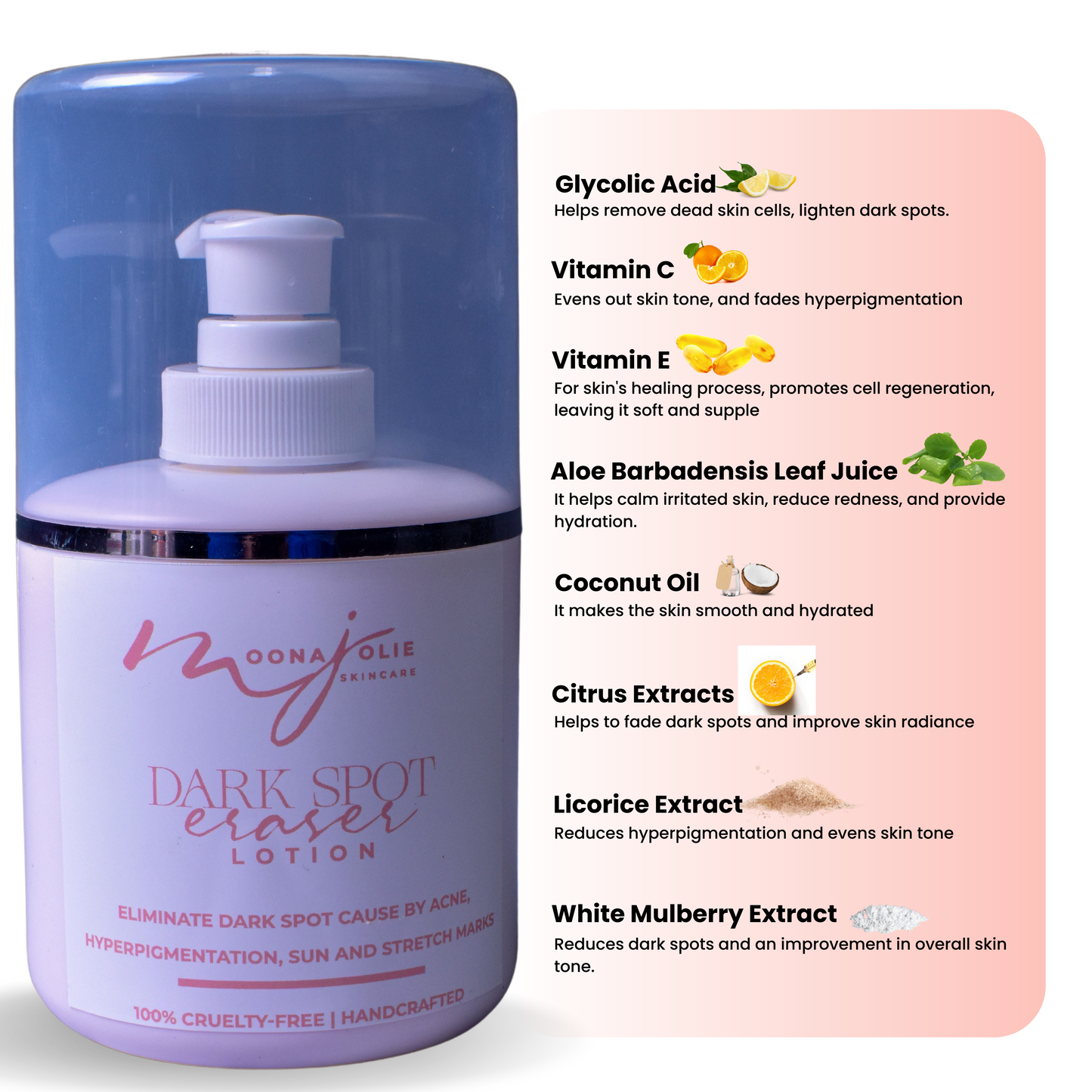 Oumou - ⭐⭐⭐⭐⭐

"I started off using the smaller bottle and seen that you offer the big one now and I am so happy. I have terrible acne, and dark spot all over my back and thighs and seen so much improvement in like 2 weeks!"

Amber - ⭐⭐⭐⭐

"When I say my dark spots have vanished! Like they are completely gone, this product is the TRUTH!"

Lily - ⭐⭐⭐⭐⭐

"This cream works very, very well. I notice a difference right away within the first week. It doesn't irritate my skin or causes acne. It smells nice, and it spreads well. I the texture is smooth. Definitely recommend, for dark spots, scars, nipples, or for a brighter complexion."
Frequently asked questions
Can Jolie's Dark Spot Face and Body Eraser Lotion be used on sensitive skin?

Absolutely! Our lotion has been specially formulated with sensitive skin in mind. Its gentle ingredients and careful formulation make it suitable for individuals with sensitive skin.
How long does it take to see results?

Results may vary depending on individual factors such as the severity of dark spots, hyperpigmentation, and skin type.

However, with consistent use twice daily, you can start seeing improvements within a few weeks. For best results, it is recommended to use the product regularly over an extended period.
Will this lotion completely remove all my dark spots?

While Jolie's Dark Spot Face and Body Eraser Lotion is designed to lighten dark spots and reduce hyperpigmentation, complete removal of dark spots may vary based on various factors.

Continued use can lead to a visible reduction in the appearance of dark spots, promoting a more even skin tone.
Can I use this lotion on my face and body?

Yes, definitely! Our lotion is formulated for use on both the face and body.

You can apply it to areas with dark spots, hyperpigmentation, or stretch marks on your face, arms, legs, or any other desired areas for a more uniform and radiant complexion.
Is it safe to use this product if I have acne-prone skin?

Absolutely! Jolie's Dark Spot Face and Body Eraser Lotion can be used on acne-prone skin.

The lotion's ingredients, including glycolic acid and soothing Aloe Barbadensis Leaf Juice, help address dark spots caused by acne while also promoting smoother and clearer skin.
Can I use this scrub on my face and body?

Yes, Jolie's Exfoliating Brightening Scrub is suitable for both the face and body. You can use it to target rough skin, cellulite-prone areas, hyperpigmented areas, or any other specific concerns you may have.

Remember to use gentle circular motions during application and rinse off thoroughly after scrubbing.
Is this product cruelty-free?

Yes, Jolie's Exfoliating Brightening Scrub is cruelty-free.

We do not test our products on animals, and we prioritize ethical and responsible practices in our manufacturing processes.