"I can't believe this scrub works as good as it does. I'm obsessed!" - Mariam
Regular price
$60.00 USD
Sale price
$40.00 USD
Unit price
per
Sale
Sold out
☑️ Brightens skin
☑️ Smoothens the skin
☑️ Makes your skin glow
Discover radiant skin with Jolie Skincare's Full Body & Bikini Exfoliating Brightening Scrub, a luxurious, 100% cruelty-free blend of vitamins and natural extracts designed for all skin types. Simply apply to damp skin, massage, and rinse to remove impurities, reduce signs of aging, and reveal a natural glow. This daily ritual not only elevates your skincare routine but also boosts your confidence, empowering you to embrace the best version of yourself.
Share
Benefits

Smoother Skin: First use removes dead skin cells for softer, smoother skin.

Brighter Complexion: Consistent use with ingredients like Niacinamide and Turmeric brightens skin.

Reduced Signs of Aging: Collagen and Vitamin E may minimize fine lines and wrinkles over time.

Improved Skin Texture and Tone: Exfoliation evens out skin tone and improves texture.

Glowing Skin: Glycerin and Olive Fruit Oil hydrate and nourish for a natural glow.
How to Use

Moisten Skin: Wet body, face, and bikini area with warm water to open pores.

Apply Scrub: Use a sufficient amount of scrub in hand.

Exfoliate: Rub gently in circular motions, avoiding eyes and sensitive areas.

Wait: Leave on for 3 minutes to absorb nutrients.

Rinse: Wash off thoroughly with warm water.

Dry and Moisturize: Pat dry and apply moisturizer to lock in hydration.
Ingredients

Sodium Chloride: Physical exfoliant that removes dead skin cells for smoother skin.

Glycerin: Humectant that locks in moisture, keeping skin hydrated and soft.

Vitamin B3: Multifunctional; improves barrier function, reduces inflammation, and enhances youthful appearance.

Collagen: Boosts skin moisture and elasticity, reducing wrinkles when applied topically.

Vitamin E: Antioxidant that protects from free radical damage and improves skin texture.

Olive Fruit Oil: High in fatty acids; nourishes and hydrates for soft, smooth skin.

Turmeric Powder: Anti-inflammatory and antioxidant; soothes and brightens skin.

Acanthus Ebracteatus Vahl Powder: Offers anti-inflammatory, antimicrobial, and antioxidant skin benefits.

Milk Protein: Hydrates and nourishes, enhancing skin texture and elasticity.
View full details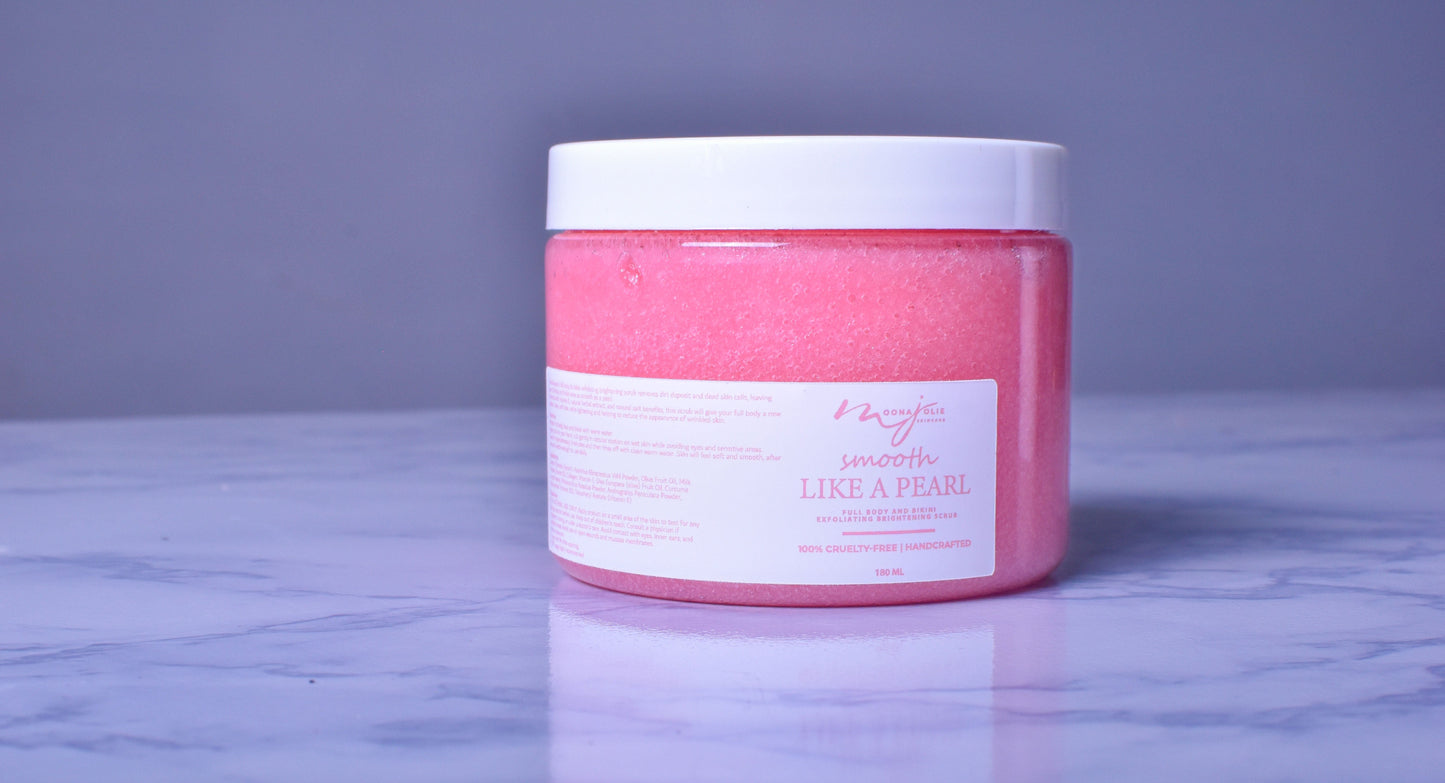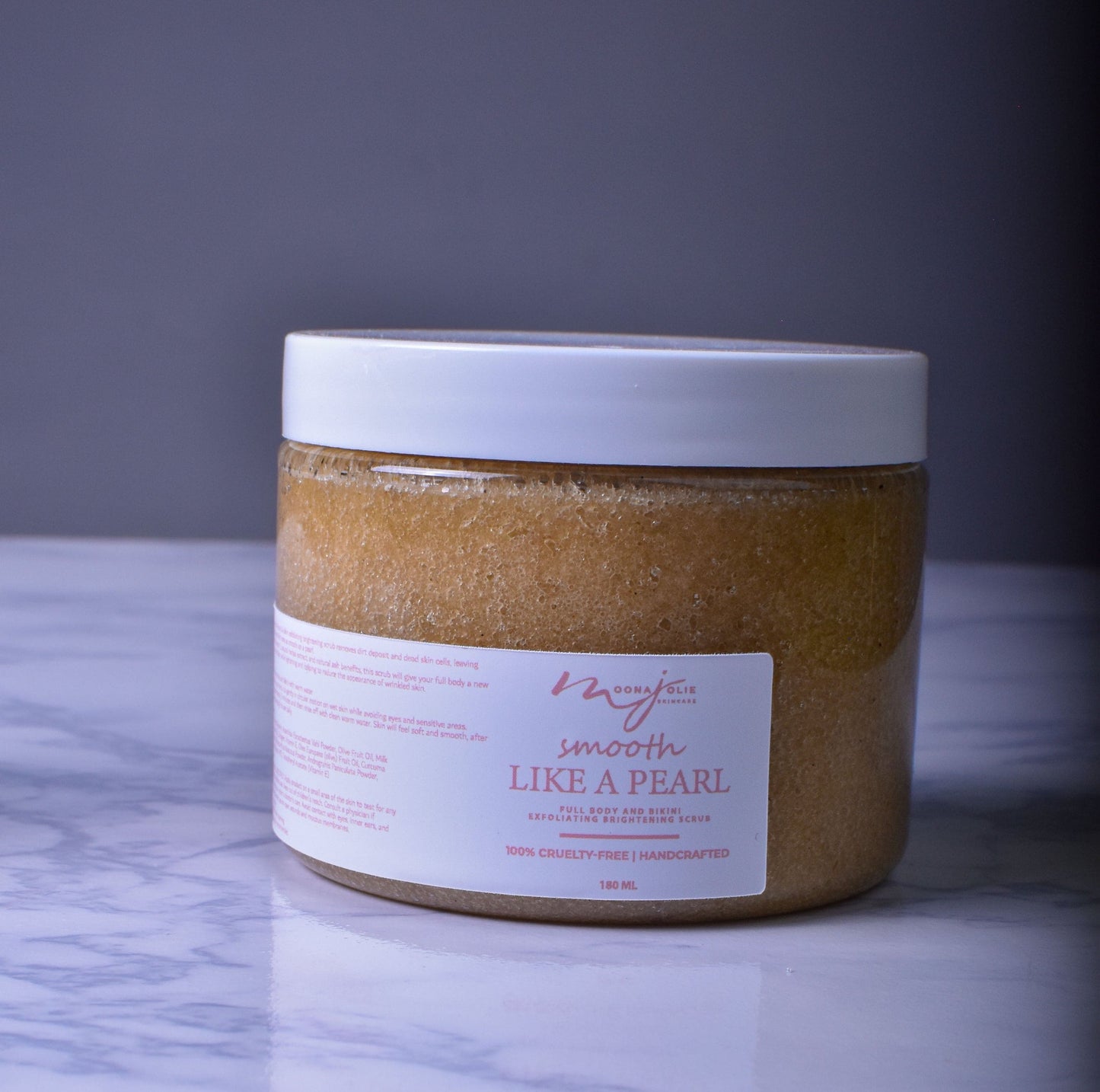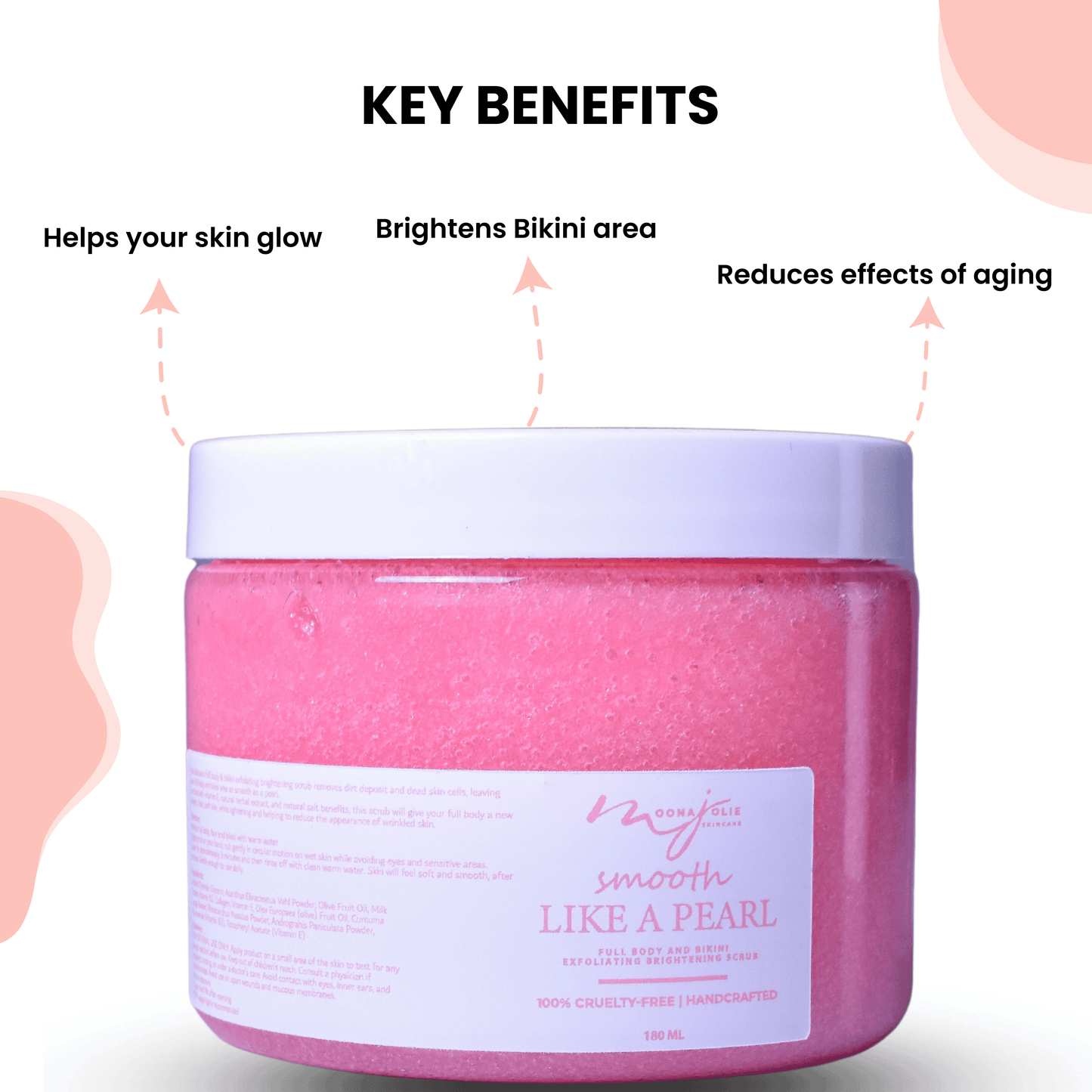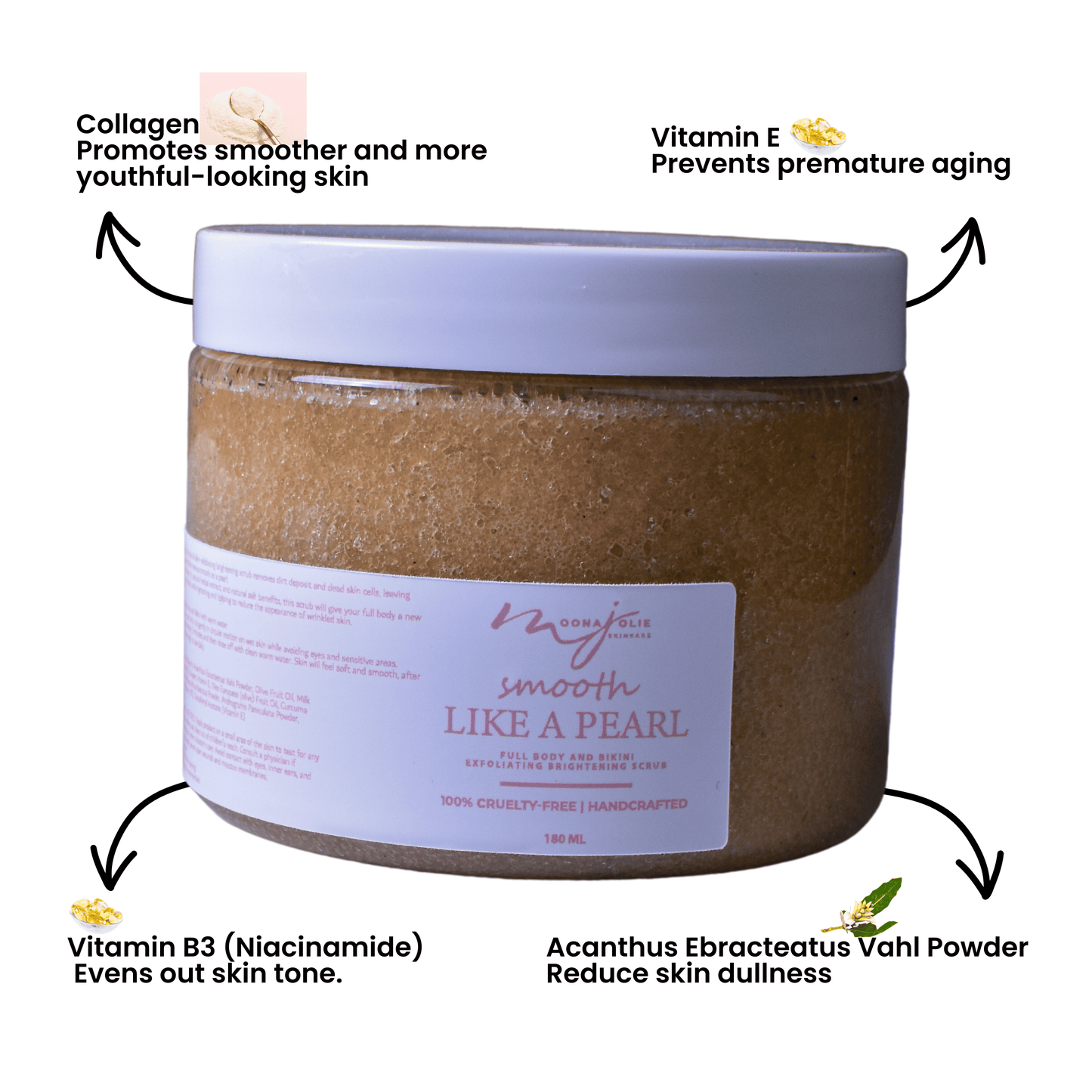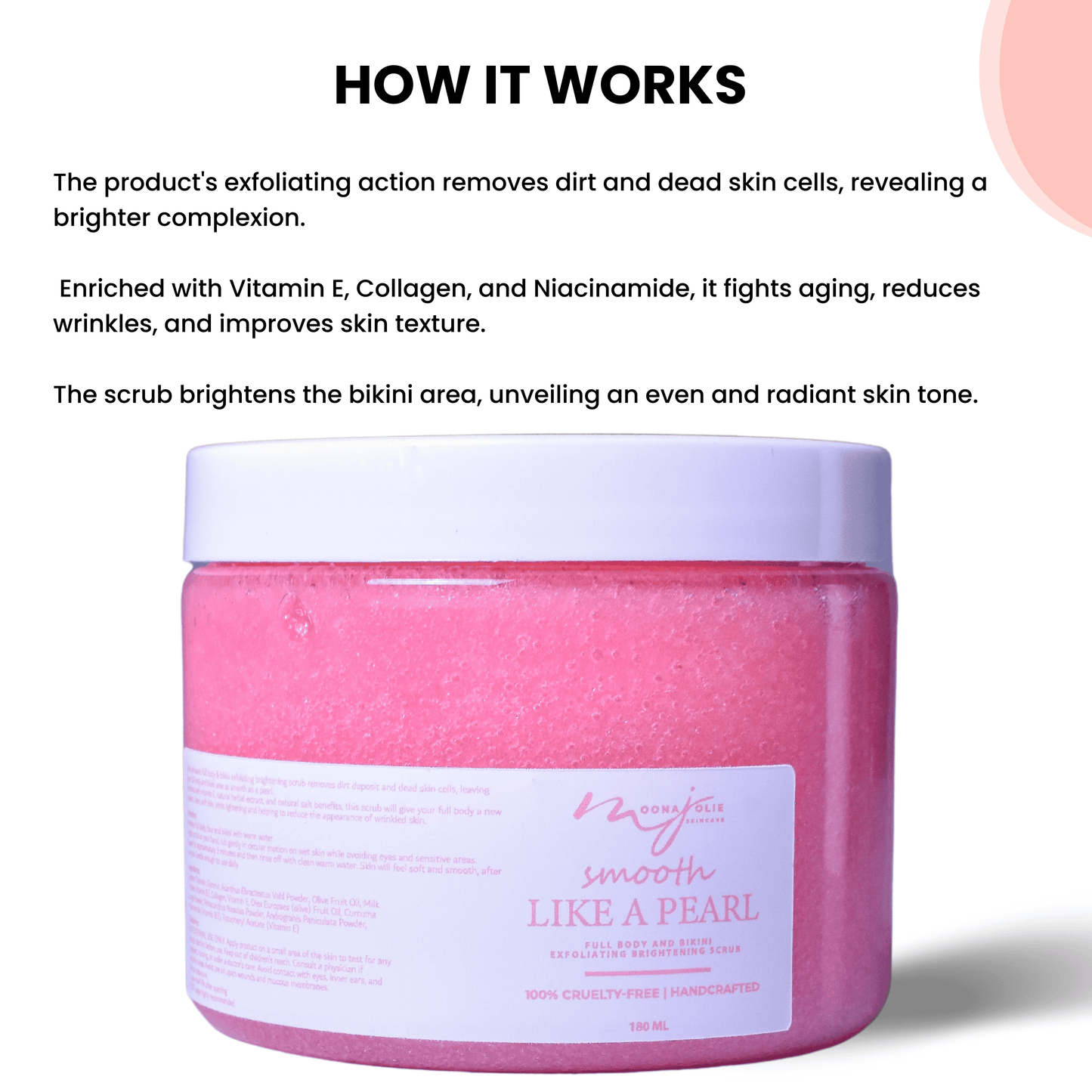 Jaylin - ⭐⭐⭐⭐

"Never going back to my original exfoliating scrub, this product does exactly what it needs too. such a big difference in my skin texture, I get compliments all the time"

Jayla - ⭐⭐⭐⭐⭐

"If I could give 20 stars, I would. This kit works wonders INSTANTLY. I dealt with discoloration and acne before, but now my skin is so clear and smooth even when I have a slight outbreak. Invest ladies, I swear it's worth it!!"

Oumou - ⭐⭐⭐⭐

"I started off using the smaller bottle and seen that you offer the big one now and I am so happy. I have terrible acne, and dark spot all over my back and thighs and seen so much improvement in like 2 weeks!"
Frequently asked questions
Is this scrub suitable for all skin types?

Yes, this scrub is formulated to be suitable for all skin types. However, if you have sensitive skin, it's recommended to do a patch test first to avoid any potential allergic reactions
Can this product help to reduce the signs of aging?

Yes, this scrub contains ingredients such as Collagen and Vitamin E that are known for their anti-aging properties and can help to reduce the appearance of wrinkles.
How often should I use this scrub?

This scrub is gentle enough to be used daily. However, depending on your skin type, you might want to adjust the frequency.

For sensitive skin, it might be better to start with 2-3 times a week and see how your skin responds.
Can I use this product if I'm pregnant or nursing?

If you're pregnant, nursing, or under a doctor's care, it is advised to consult a physician before using this product.
 Is this product cruelty-free?

Yes, this scrub is 100% cruelty-free and handcrafted