"I know it's not lip gloss but please believe me when I say I use it like it is. My lips are so soft and smooth, it's a must have in my purse" - Inglyand
Regular price
Sale price
$40.00 USD
Unit price
per
Sale
Sold out
☑️ Deals with discolored lips
☑️ Moisturises dry lips
☑️ Clears hyperpigmentation
Introducing Jolie's Exfoliating Brightening Scrub for vibrant, glowing skin. This scrub removes debris and dark spots, revealing even and radiant skin. Made with citrus, apple extract, and vitamins, it nourishes while targeting rough and hyperpigmented areas. For luminous results, massage gently, let sit for 3 minutes, and rinse; but avoid cuts and sunburned areas.
Share
Benefits

Brighter Lips: Designed to lighten lips, this product reduces discoloration and aims to restore a natural, pink hue.


Improved Lip Texture: Formulated with jojoba oil, cocoa butter, and Vitamin E, the cream softens and smooths your lips.


Reduced Hyperpigmentation: Active ingredients like niacinamide, kojic acid, and alpha arbutin work to even out lip color.


Hydration: Ingredients such as n:jojoba oil and cocoa butter offer moisturizing benefits, making lips less dry.


Antioxidant Protection: Vitamins E and C provide antioxidant protection against environmental damage.


Better Lip Makeup Application: The product also acts as a base for lip makeup, enhancing its look and application.
How to Use

1. Cleanse: Begin by cleansing your lips to remove dirt and any existing lip products.


2. Apply: Use your finger to dab a small amount of Jolie Lip Brightening Cream.


3. Spread: Gently cover your entire lip area with the cream.
Absorb: Allow the cream to absorb; do not rinse off.


4. Sunscreen: Apply SPF lip balm or sunscreen to protect lips from UV sensitivity.


5. Reapply: Use the cream as needed and as a base for lip makeup.
Ingredients

Niacinamide (Vitamin B3): Known for skin lightening, this vitamin reduces discoloration and improves overall tone by inhibiting pigment-cell transfer.


Jojoba Oil: A natural moisturizer resembling skin's sebum, jojoba oil effectively hydrates lips and locks in moisture.


Kojic Acid: This skin-lightening agent reduces melanin levels by inhibiting the function of the enzyme tyrosinase.


Alpha-Arbutin: Slows down enzymes triggering pigment production, thus reducing discoloration and brightening skin.


Vitamin E: An antioxidant that nourishes, prevents free radical damage, and aids in lip hydration.


Cocoa Butter: A natural fat that moisturizes, nourishes, and improves skin elasticity.


Vitamin C: Reduces skin pigmentation by inhibiting tyrosinase and thus decreasing melanin production.
Safety

Disclaimer: FOR EXTERNAL USE ONLY.

Apply product on a small area of the skin to test for any allergic reaction before use. Keep out of children's reach.

Consult a physician If pregnant, nursing, or under a doctor's care. Avoid contact with eyes, inner ears, and sensitive areas. Avoid use on open wounds and mucous membranes.

No exposure to the sun.

1 Year shelf Life after opening

All skin brightening products should be used in conjunction with sunscreen.
View full details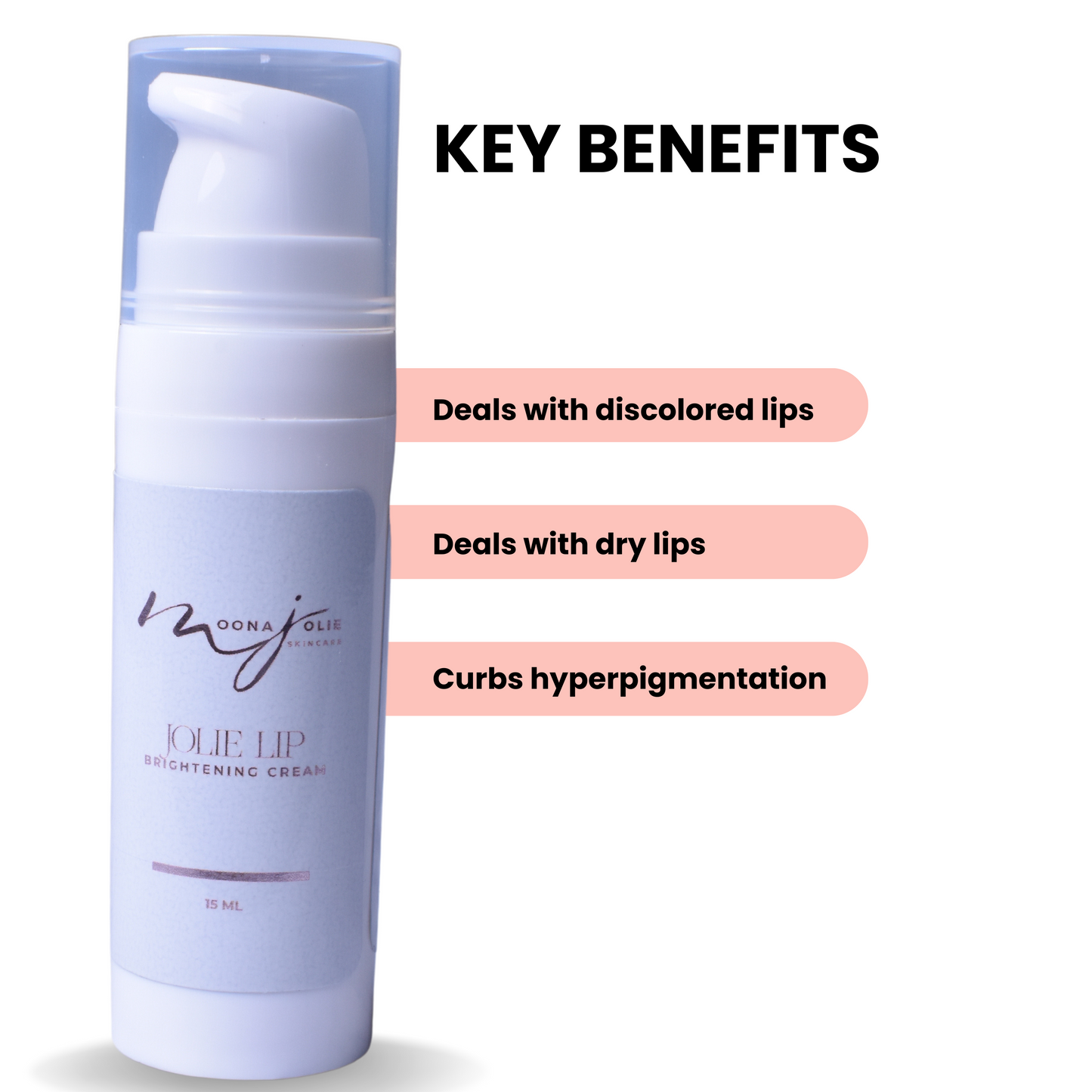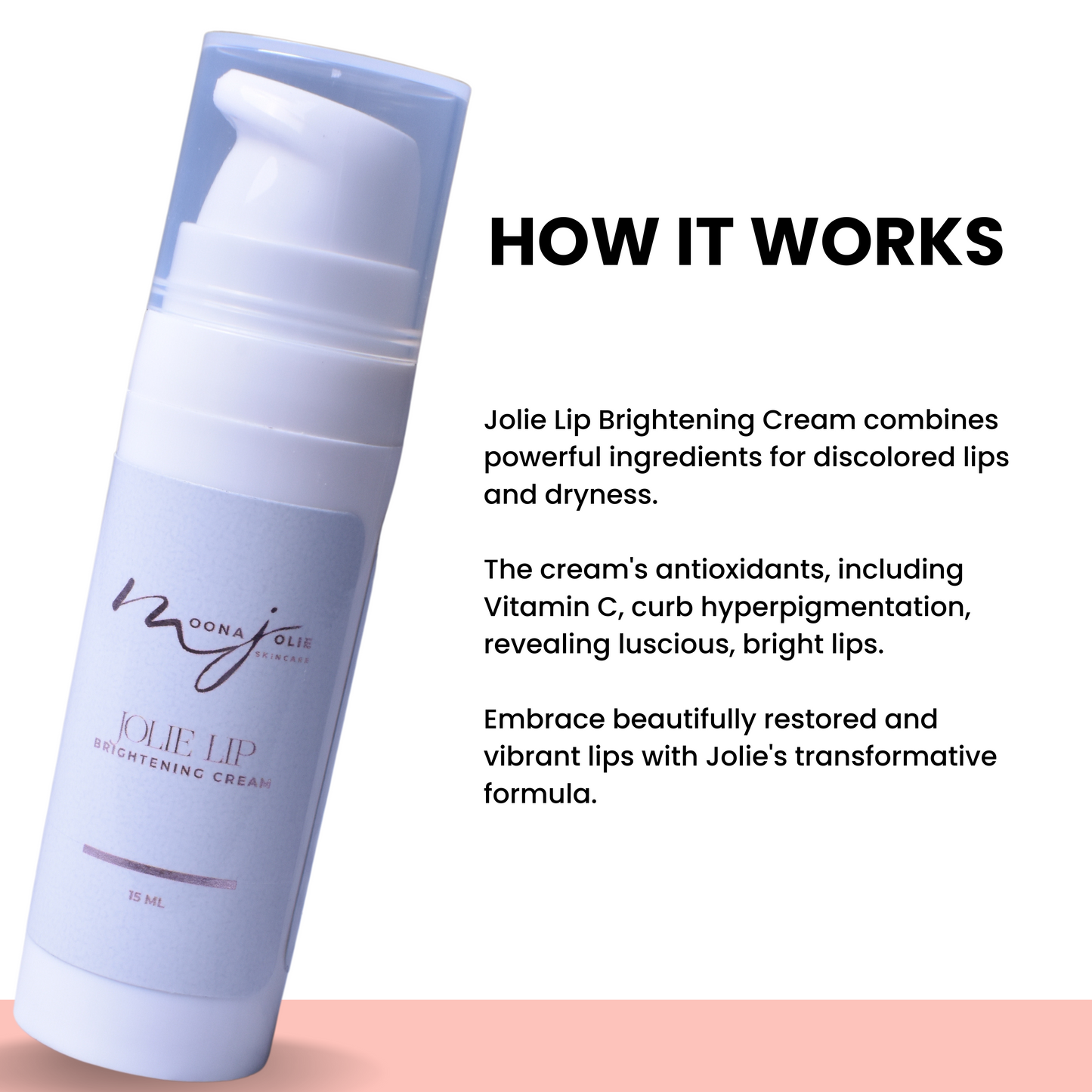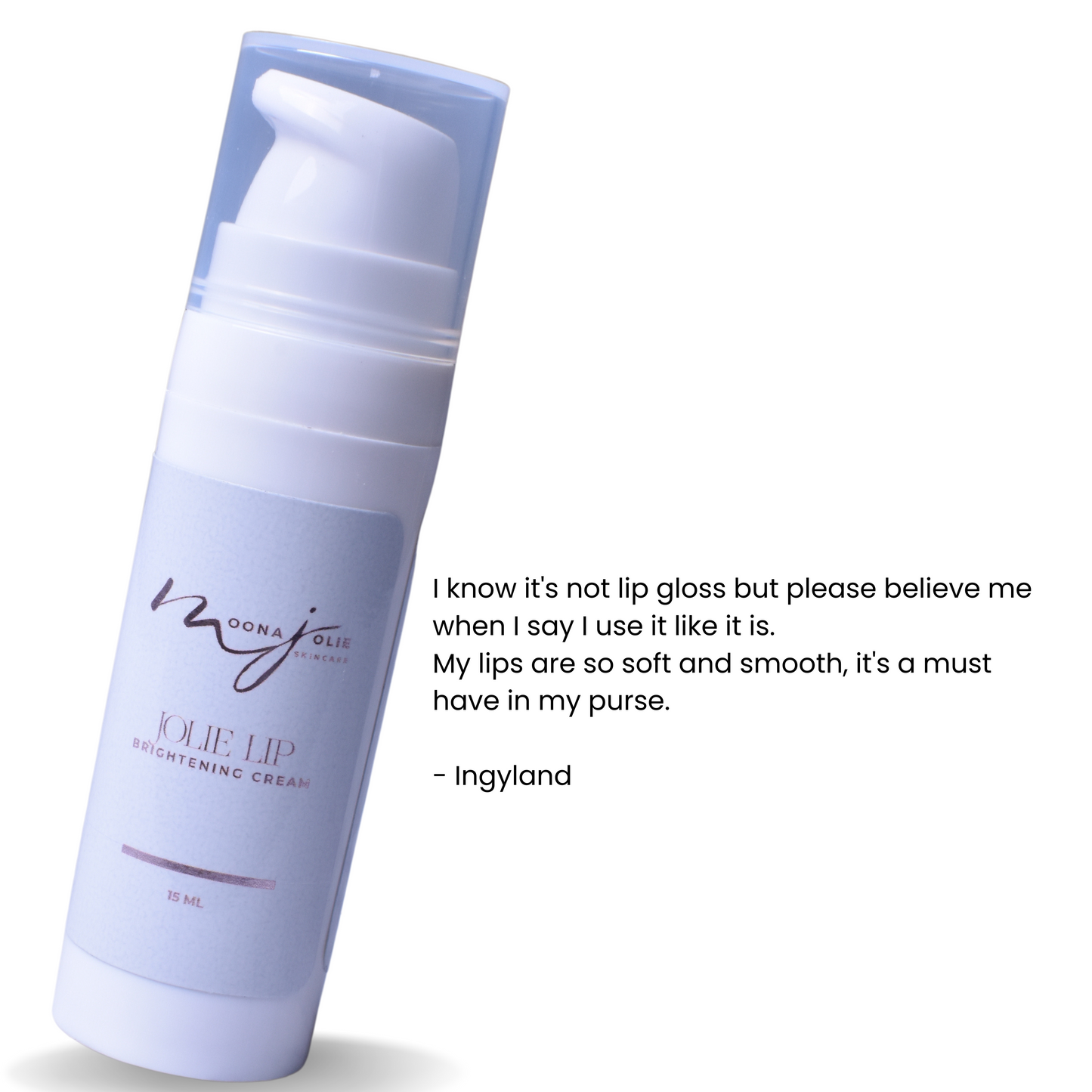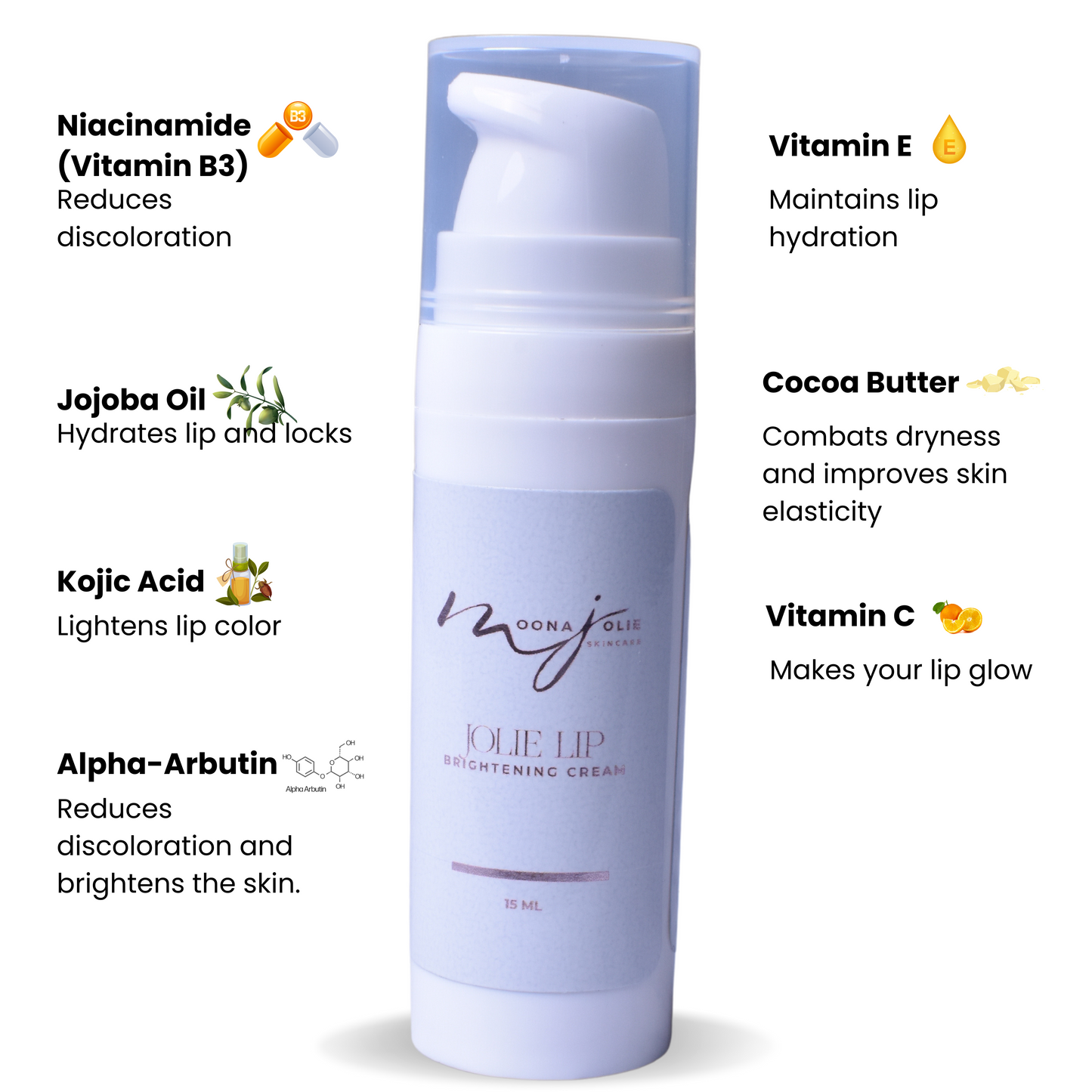 Tonay - ⭐⭐⭐⭐⭐

"From the first day I use this product within a couple of days my lips begin to lighten up. I will say it does burn and tingle, whichever ingredient is in the scrub is different!"

Daj - ⭐⭐⭐⭐

"I took the skin quiz on your site and it led me to this, and I have been using it for about a year now. I smoke all the time and I don't worry about my lips being purple anymore"

Inglyand - ⭐⭐⭐⭐⭐

"I know it's not lip gloss but please believe me when I say I use it like it is. My lips are so soft and smooth, it's a must have in my purse"
Frequently asked questions
How does Jolie Lip Brightening Cream help in lightening lip color?

The cream contains several ingredients known for their skin lightening properties like niacinamide, kojic acid, and alpha-arbutin. These ingredients inhibit melanin production, the pigment responsible for skin color, thus helping to lighten and brighten the lips over time.
 Can I use this product under my lip makeup?

Yes, Jolie Lip Brightening Cream can be used as a base for lip makeup. It moisturizes the lips, helping to create a smooth surface for makeup application.
What precautions should I take while using this product?

This product is for external use only and should not be applied to open wounds or mucous membranes. Always conduct a patch test to check for any allergic reaction before full application.

If you are pregnant, nursing, or under a doctor's care, consult a healthcare provider before use. Avoid contact with eyes, inner ears, and sensitive areas. Using an SPF alongside this product is highly recommended to protect your lips from sun damage.
Can I use this product if I have hyperpigmentation on my lips?

Yes, the product contains ingredients like niacinamide, kojic acid, and alpha-arbutin that are known to help reduce hyperpigmentation by inhibiting melanin production. However, as with any product, results can vary from person to person.