"Tried it once and loved it so much I ordered 10 more….terrific shine….not sticky and long lasting…..definitely get you some!! 10 out of 10!!" - Erica P.
Regular price
Sale price
$10.00 USD
Unit price
per
Sale
Sold out
☑️ Fades Dark Spots
☑️ Brighten Your Complexion
☑️ Evens Out Skintone
Introducing Jolie's Exfoliating Brightening Scrub for vibrant, glowing skin. This scrub removes debris and dark spots, revealing even and radiant skin. Made with citrus, apple extract, and vitamins, it nourishes while targeting rough and hyperpigmented areas. For luminous results, massage gently, let sit for 3 minutes, and rinse; but avoid cuts and sunburned areas.
Share
Benefits

Gloss Like No Other: Jolie's Kiss is more than a lip gloss; it's your secret to unforgettable lips.


Perfectly Kissable: Experience the irresistible kiss of color and shine this gloss offers.


Customize Your Pout: Choose from two shades to match your look, mood, or occasion.


Beauty With a Conscience: Jolie's Kiss is cruelty-free and vegan, making it ideal for conscious beauty enthusiasts.


Complete Your Look: Add the finishing touch to your style with Jolie's Kiss and witness compelling beauty.
How to Use

To use Jolie's Kiss lip gloss, start by prepping your lips for a smooth application, possibly with a lip scrub or balm.

1. Apply the gloss using its applicator, starting from the center of your lips and spreading towards the edges.

2. Choose from the two available shades to match your look or mood.

3. Reapply as needed to maintain shine and color throughout the day.
Ingredients

Ingredients: Polybutene, Diisostearyl Malate, Bis-diglyceryl Polyacyladipate-2,
Octyldodecanol, Polyethylene, Silica, Butyrospermum Parkii (Shea) Butter,
Microcrystalline Wax, Synthetic Fluorphlogopite, Silica Dimethyl Silylate,
Tridecyl Trimellitate, Ethylene/propylene/styrene Copolymer, Tocopherol.

View full details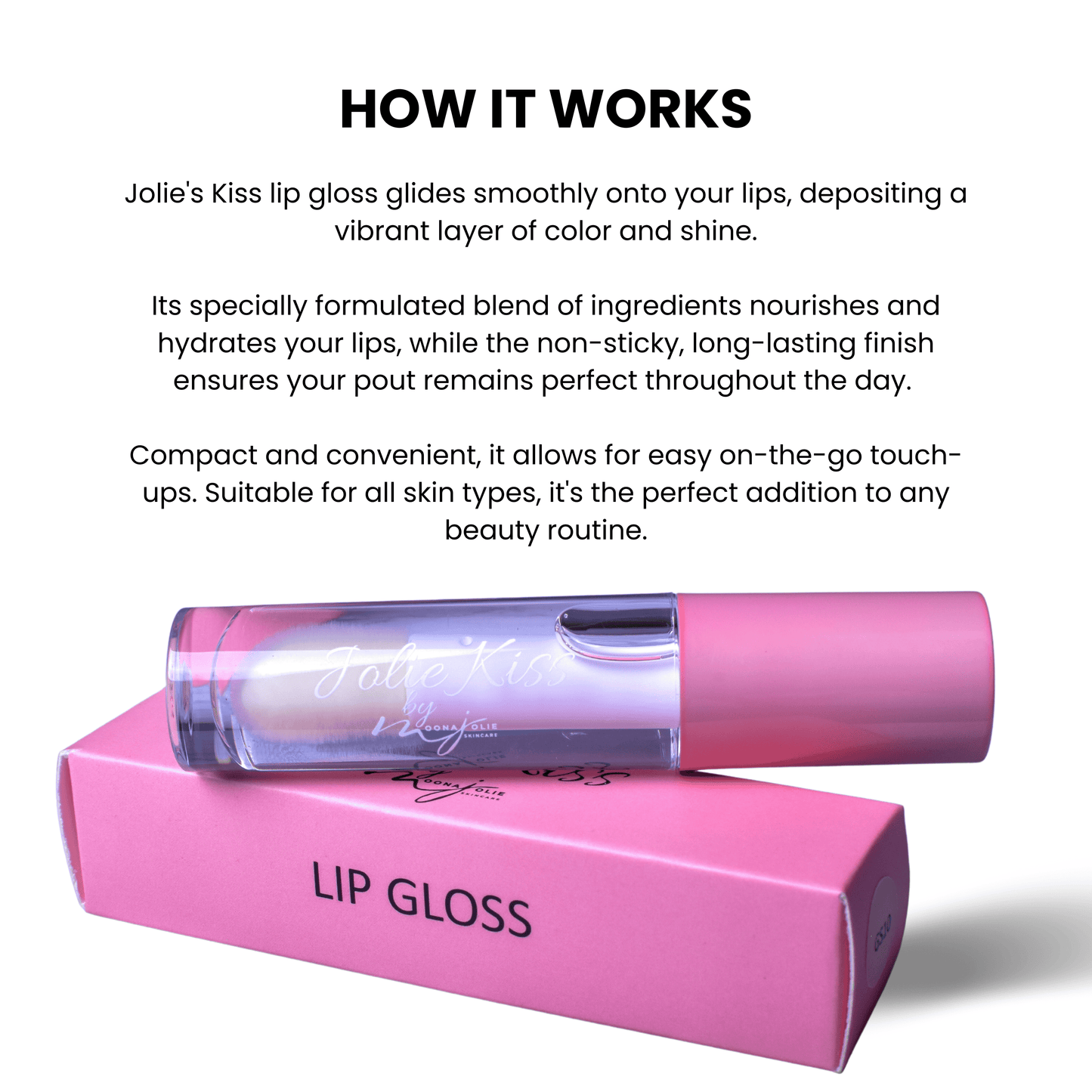 Frequently asked questions
How does Jolie's Exfoliating Brightening Scrub work?

Our scrub works by gently exfoliating the skin, removing debris that dulls the complexion and promoting a brighter, more even skin tone. It contains powerful ingredients like citrus extracts, apple extract, soybean oil, milk protein, and vitamin E, which work together to refine the skin's texture, reduce dark spots and hyperpigmentation, and enhance your skin's radiance.
Can this scrub help with dark spots and hyperpigmentation?

Yes! Jolie's Exfoliating Brightening Scrub is specially formulated to address dark spots and hyperpigmentation. Through exfoliation and the use of targeted ingredients, the scrub can help reduce the appearance of these skin concerns, resulting in a more balanced and even complexion over time.
Will this product make my skin glow?

Absolutely! Our scrub is designed to enhance your skin's natural glow. By exfoliating away dead skin cells and nourishing the skin with ingredients like citrus extracts, soybean oil, and milk protein, it helps unveil a radiant complexion. With consistent use, you can expect your skin to have a healthy and luminous glow.
Can I use this scrub if I have sensitive skin?

While Jolie's Exfoliating Brightening Scrub is generally suitable for most skin types, it is important to be cautious if you have sensitive skin. Avoid using the scrub on cuts or delicate areas, and refrain from exfoliating if your skin is sunburned or already irritated. Perform a patch test before use and discontinue if any adverse reactions occur.
How often should I use the scrub?

For best results, use the scrub 2-3 times per week. Over-exfoliation can irritate the skin, so it's important to give your skin time to rest and recover between each use.

Adjust the frequency based on your skin's response, and always listen to your skin's needs.
Can I use this scrub on my face and body?

Yes, Jolie's Exfoliating Brightening Scrub is suitable for both the face and body. You can use it to target rough skin, cellulite-prone areas, hyperpigmented areas, or any other specific concerns you may have.

Remember to use gentle circular motions during application and rinse off thoroughly after scrubbing.
Is this product cruelty-free?

Yes, Jolie's Exfoliating Brightening Scrub is cruelty-free.

We do not test our products on animals, and we prioritize ethical and responsible practices in our manufacturing processes.