"I faithfully use this consistently, I wish it came in a bigger size!" - Alondra
Regular price
$70.00 USD
Sale price
$50.00 USD
Unit price
per
Sale
Sold out
☑️ Reduces hyperpigmentation
☑️ Clears dark knuckles
☑️ Evens out skin tone.
Struggling with dark knuckles, knees, or elbows? Our Dark Knuckles Eraser targets these tough areas, offering even-toned, luminous skin while also providing deep hydration and nourishment. Safe for external use in adults, this power-packed formula combines nature and science for radiant, spotless skin.
Share
Benefits

Initial Response: Immediate moisturization and nourishment from glycerin and oils.

Gradual Lightening: Regular use aims to gradually lighten dark areas like knuckles, elbows, and knees.

Reduced Scarring: Claims to make scars less noticeable over time.

Even Skin Tone: Promotes even skin tone with consistent use.

Improved Skin Texture: Ingredients like Vitamin E and oils improve skin's softness and smoothness.
How to Use

1. Clean the Skin: Wash and pat dry the targeted area.

2. Apply the Product: Apply a small amount to areas like knuckles, knees, and elbows.

3. Massage Gently: Rub in circular motions until absorbed.

4. Regular Application: Apply daily for best results, expecting gradual changes
Ingredients

Glycerine: A humectant that locks in moisture for plumper, healthier skin.

Jojoba Oil: Mimics natural sebum and is rich in vitamins, aiding in hydration and skin repair.

Carrot Oil: High in vitamins and beta-carotene, it nourishes and improves skin tone and elasticity.

Vitamin E: An antioxidant that protects against environmental damage and improves skin texture.

Castor Beans: Provides deep hydration and has anti-inflammatory properties due to its fatty acid content.

Calendula Oil: Offers anti-inflammatory and healing benefits, and promotes skin tightness.
Safety

Remember, this product is for external use only. Do not ingest and avoid contact with your eyes. Also, the product is not suitable for children under the age of 12. If you experience any irritation or adverse reaction, discontinue use and consult a healthcare professional.
View full details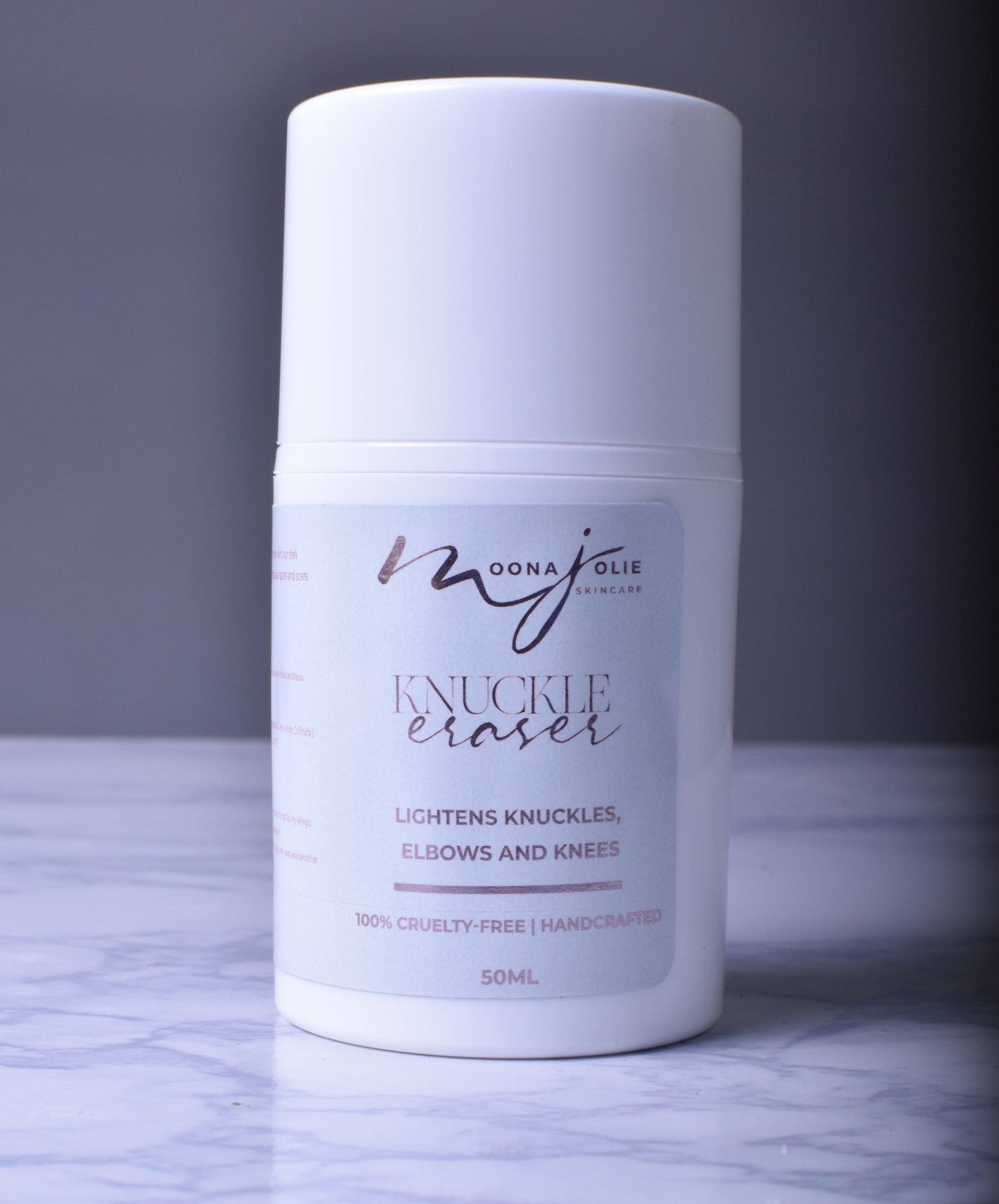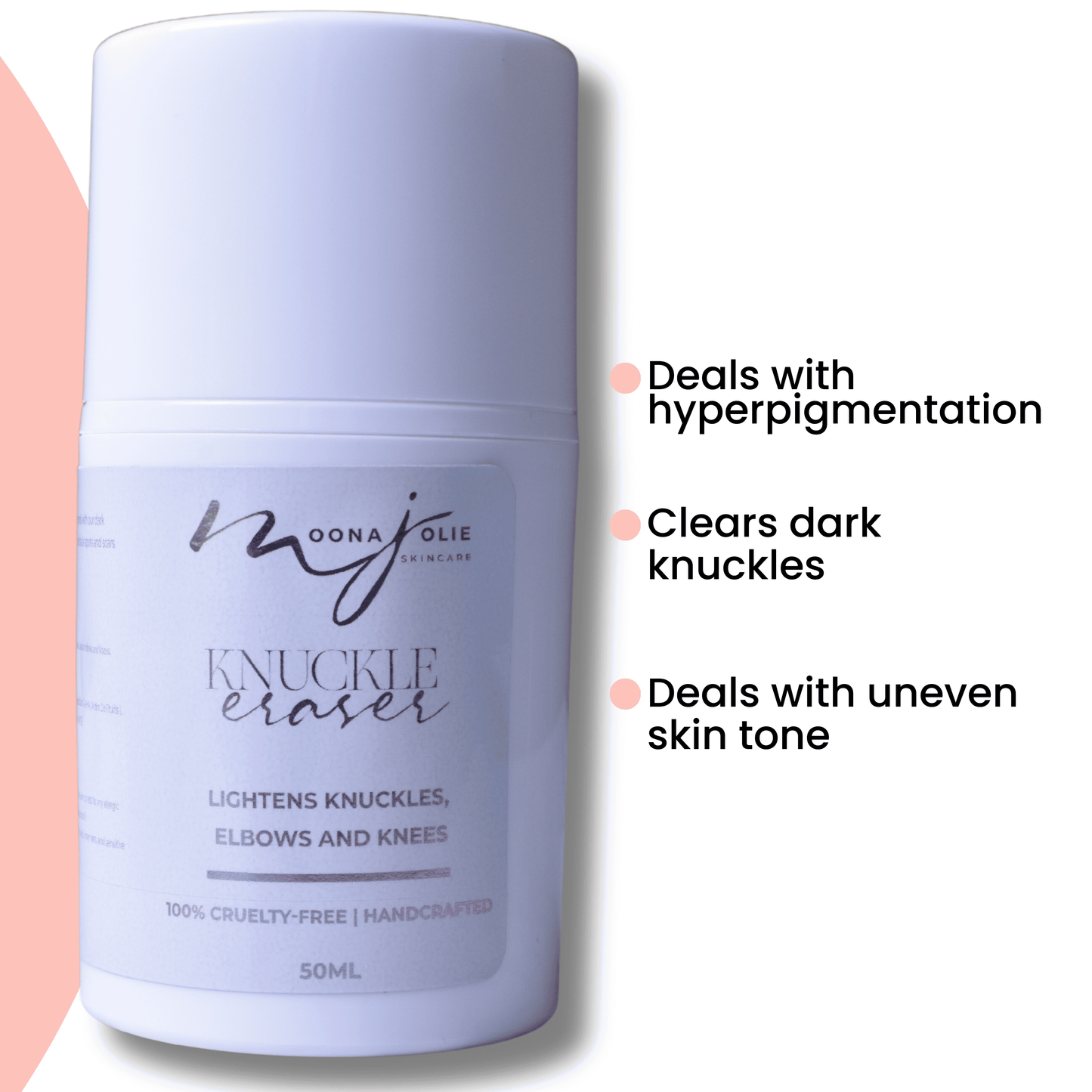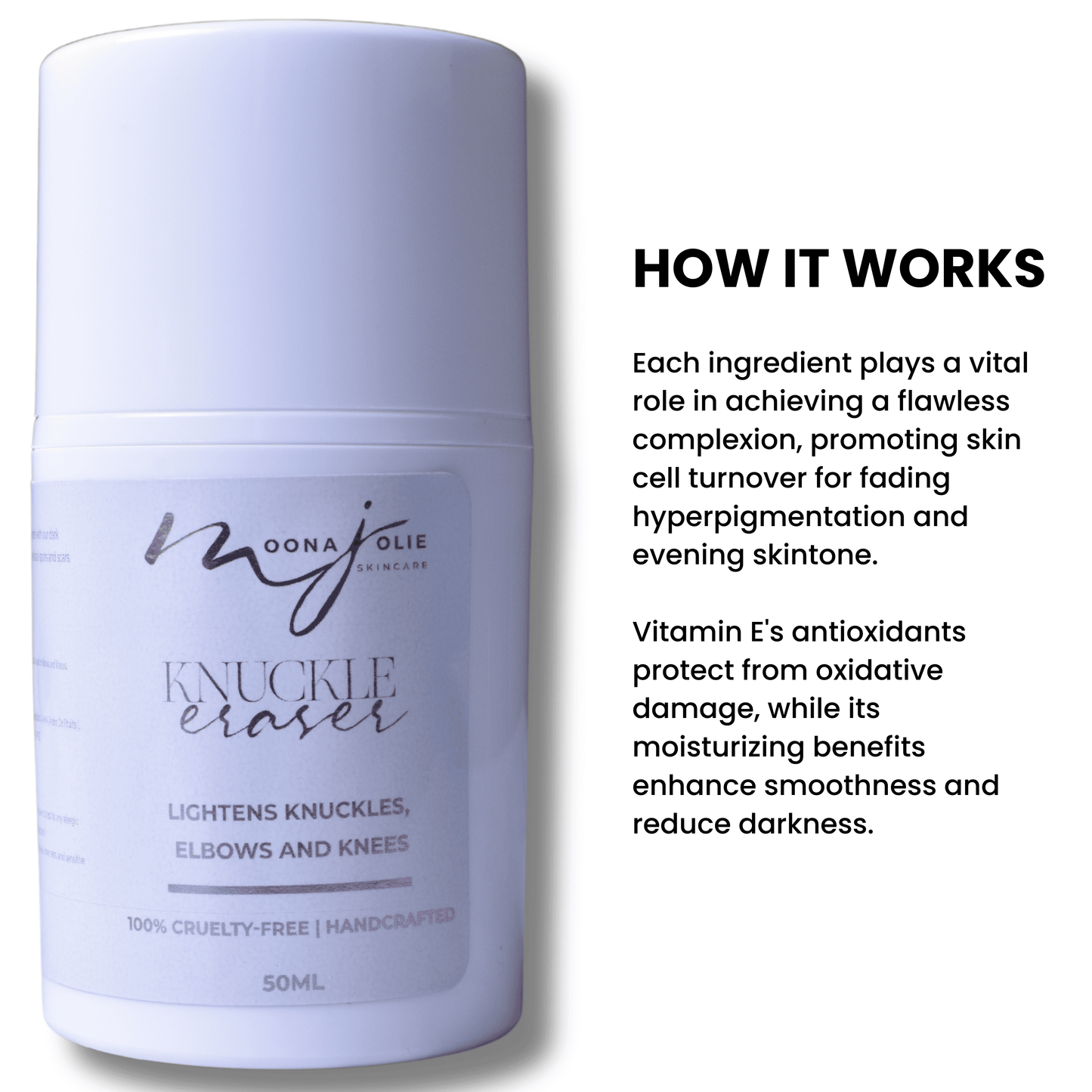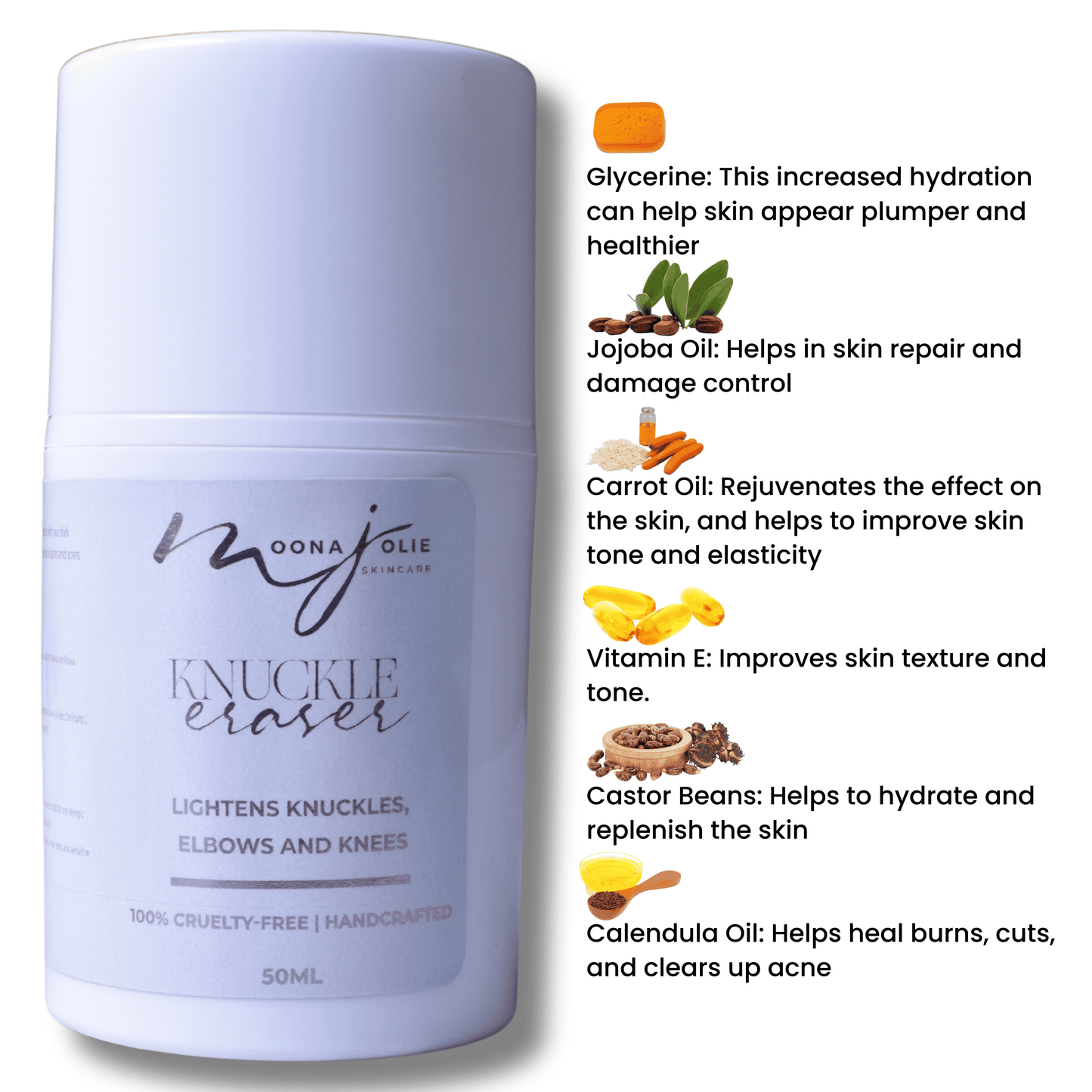 Keke Ocasio - ⭐⭐⭐⭐⭐

"I can't say enough good things about this product. My daughter gave me this brightening kit and I quickly ordered more. It did take a few weeks of consistent application but I saw a noticeable difference in a few week!"

Keisha Rocque - ⭐⭐⭐⭐

"This product is great for sensitive skin. I used it for my face and it helped clear it up. I also tried it on my face specifically my back for the dark spots from acne and it helped but it did cause it to get a little dry and peeled. Overall very satisfied. "

Amanda Pitenis - ⭐⭐⭐⭐⭐

"This product works wonders. I showed a friend my before and after photos and she thought I was pulling a prank on her and said I was not showing her pictures of the same individual."
Frequently asked questions
How often should I use the Dark Knuckles Eraser?

Our Dark Knuckles Eraser is designed for daily use. For the best results, we recommend applying it consistently on the areas of concern, such as your knuckles, knees, or elbows.
Will the Dark Knuckles Eraser cause any skin irritation?

Our product is formulated with gentle yet effective ingredients. However, everyone's skin reacts differently to skincare products. If you experience any irritation or adverse reactions, discontinue use and consult a healthcare professional. We also recommend doing a patch test before starting regular use.
Can I use the Dark Knuckles Eraser on my face?

The Dark Knuckles Eraser is specifically designed to target tough areas like knuckles, knees, and elbows. It might be too potent for the more delicate skin on your face. We recommend sticking to the body areas specified in the instructions.
Can children use the Dark Knuckles Eraser?

This product is not recommended for children under 12 years of age. Always keep it out of the reach of children.
How soon can I expect to see results from using the Dark Knuckles Eraser?

Skincare products generally show results over a period of consistent use.

While the timeframe can vary depending on the individual and their specific skin concerns, you should begin to see some improvement in the darkened areas and overall skin tone in a few weeks of regular use.

However, for some people, it might take longer to see significant changes. Always remember, skincare is a journey, not a destination.