"I wear lash extensions a lot, and I apply this in between fill ins and when they start to wear off and I'm at the point where I'm obsessed with my natural lashes more!" - Haja
Regular price
Sale price
$20.00 USD
Unit price
per
Sale
Sold out
☑️ Helps the growth of longer, thicker eyelashes.
☑️ Prevents the eyelashes & brows from breaking
☑️ Longer Fuller Looking Lashes
Introducing Jolie's Exfoliating Brightening Scrub for vibrant, glowing skin. This scrub removes debris and dark spots, revealing even and radiant skin. Made with citrus, apple extract, and vitamins, it nourishes while targeting rough and hyperpigmented areas. For luminous results, massage gently, let sit for 3 minutes, and rinse; but avoid cuts and sunburned areas.
Share
Benefits

Eyelash Growth: With consistent application of castor oil, rich in ricinoleic acid, you should see longer and thicker eyelashes over time.


Eyebrow Enhancement: Regular use of castor oil can make your eyebrows appear fuller and thicker.


Stronger Lashes and Brows: The oil's nutrients fortify hair follicles, making lashes and brows stronger and less breakable.


Improved Hair Health: Castor oil nourishes your lashes and brows, making them shinier and softer over time.


No Immediate Results: For noticeable results, consistent use for 2-3 months is typically required.
How to Use

For Eyelashes:

1. Start with a small amount of the product.

2. Using the included applicator, apply the castor oil to the base of your eyelashes, focusing mainly on the roots.

3. Apply the oil a couple of hours before going to bed to allow it to be fully absorbed by the hair overnight.

4. Upon waking up, gently remove the oil using a makeup remover or water.


For Eyebrows:

1. Start with a small amount of the oil.

2. Use the applicator brush to apply the oil to the eyebrow area.

3. Massage the oil into the brow line.

4. Apply the oil both morning and night for best results.

Before using the product, make sure both your lashes and brows are free from any makeup, especially mascara.

Using the product regularly for 2-3 months as directed will yield optimal results.
Ingredients

Castor Oil: Applied to the scalp, castor oil promotes hair growth, protects against hair loss, and provides essential proteins and nutrients to moisturize and prevent breakage.


Vitamin E: This antioxidant reduces oxidative stress in the scalp, supporting hair and scalp health and aiding in maintaining hair growth.
Safety

FOR EXTERNAL USE ONLY. Rub a very small amount on the inside of your elbow area to test for any allergic reaction before use. Keep out of children's reach.

Consult a physician if pregnant, nursing, or under a doctor's care. Avoid contact with eyes, inner ears, and sensitive areas. Avoid use on open wounds and mucous membranes

10ml -- 1 year shelf life after opening. 100% vegan, cruelty-free, handcrafted No sun exposure.
View full details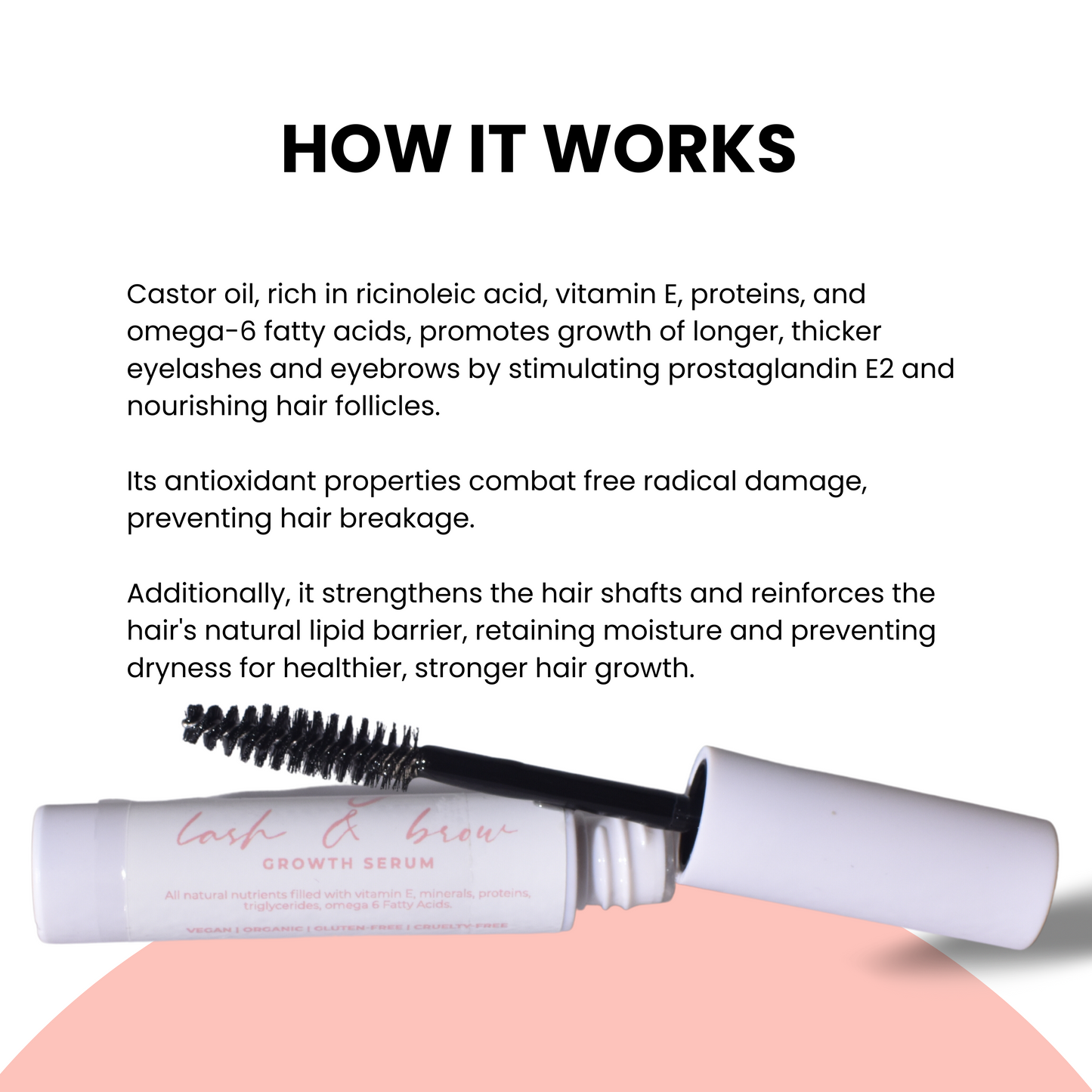 Frequently asked questions
How does Jolie's Exfoliating Brightening Scrub work?

Our scrub works by gently exfoliating the skin, removing debris that dulls the complexion and promoting a brighter, more even skin tone. It contains powerful ingredients like citrus extracts, apple extract, soybean oil, milk protein, and vitamin E, which work together to refine the skin's texture, reduce dark spots and hyperpigmentation, and enhance your skin's radiance.
Can this scrub help with dark spots and hyperpigmentation?

Yes! Jolie's Exfoliating Brightening Scrub is specially formulated to address dark spots and hyperpigmentation. Through exfoliation and the use of targeted ingredients, the scrub can help reduce the appearance of these skin concerns, resulting in a more balanced and even complexion over time.
Will this product make my skin glow?

Absolutely! Our scrub is designed to enhance your skin's natural glow. By exfoliating away dead skin cells and nourishing the skin with ingredients like citrus extracts, soybean oil, and milk protein, it helps unveil a radiant complexion. With consistent use, you can expect your skin to have a healthy and luminous glow.
Can I use this scrub if I have sensitive skin?

While Jolie's Exfoliating Brightening Scrub is generally suitable for most skin types, it is important to be cautious if you have sensitive skin. Avoid using the scrub on cuts or delicate areas, and refrain from exfoliating if your skin is sunburned or already irritated. Perform a patch test before use and discontinue if any adverse reactions occur.
How often should I use the scrub?

For best results, use the scrub 2-3 times per week. Over-exfoliation can irritate the skin, so it's important to give your skin time to rest and recover between each use.

Adjust the frequency based on your skin's response, and always listen to your skin's needs.
Can I use this scrub on my face and body?

Yes, Jolie's Exfoliating Brightening Scrub is suitable for both the face and body. You can use it to target rough skin, cellulite-prone areas, hyperpigmented areas, or any other specific concerns you may have.

Remember to use gentle circular motions during application and rinse off thoroughly after scrubbing.
Is this product cruelty-free?

Yes, Jolie's Exfoliating Brightening Scrub is cruelty-free.

We do not test our products on animals, and we prioritize ethical and responsible practices in our manufacturing processes.