"This surprisingly has helped me eliminate and soothe my eczema, which I didn't expect to happen from peppermint oil! Will be purchasing for my re-UP soon!" - Tiffany
Regular price
$25.00 USD
Sale price
$10.00 USD
Unit price
per
Sale
Sold out
☑️ Cleanses skin
☑️ Reduces muscle aches & joint pain 
☑️ Eliminates itching.
Experience revitalization with our 100% Pure Organic Peppermint Oil. It soothes muscle aches, enhances skin clarity, and offers sensory delight. Ideal for an active lifestyle and perfect for achieving radiant skin. Elevate your self-care routine and rediscover the best version of yourself.
Share
Benefits

Aromatic experience: Enjoy the invigorating, uplifting scent of peppermint for enhanced alertness.

Cooling sensation: Experience refreshing, soothing relief for headaches, muscle, and joint pain when applied topically.

Potential pain relief: Menthol, its active compound, may offer temporary relief for minor aches.

Skin cleansing and pore unclogging: Cleanse your skin, unclog pores, and promote a balanced complexion.

Potential relief from itching: Reduce itchiness from insect bites or skin irritations.
How to Use

Here is how to use it: 

1. Cleanse the skin: This will allow the oil to penetrate better and maximize its benefits.

2. Apply a small amount: For example, if you're using it as a moisturizer for your face, apply a very small amount and gently massage it into the skin.
Ingredients

100% Organic Peppermint Oil
View full details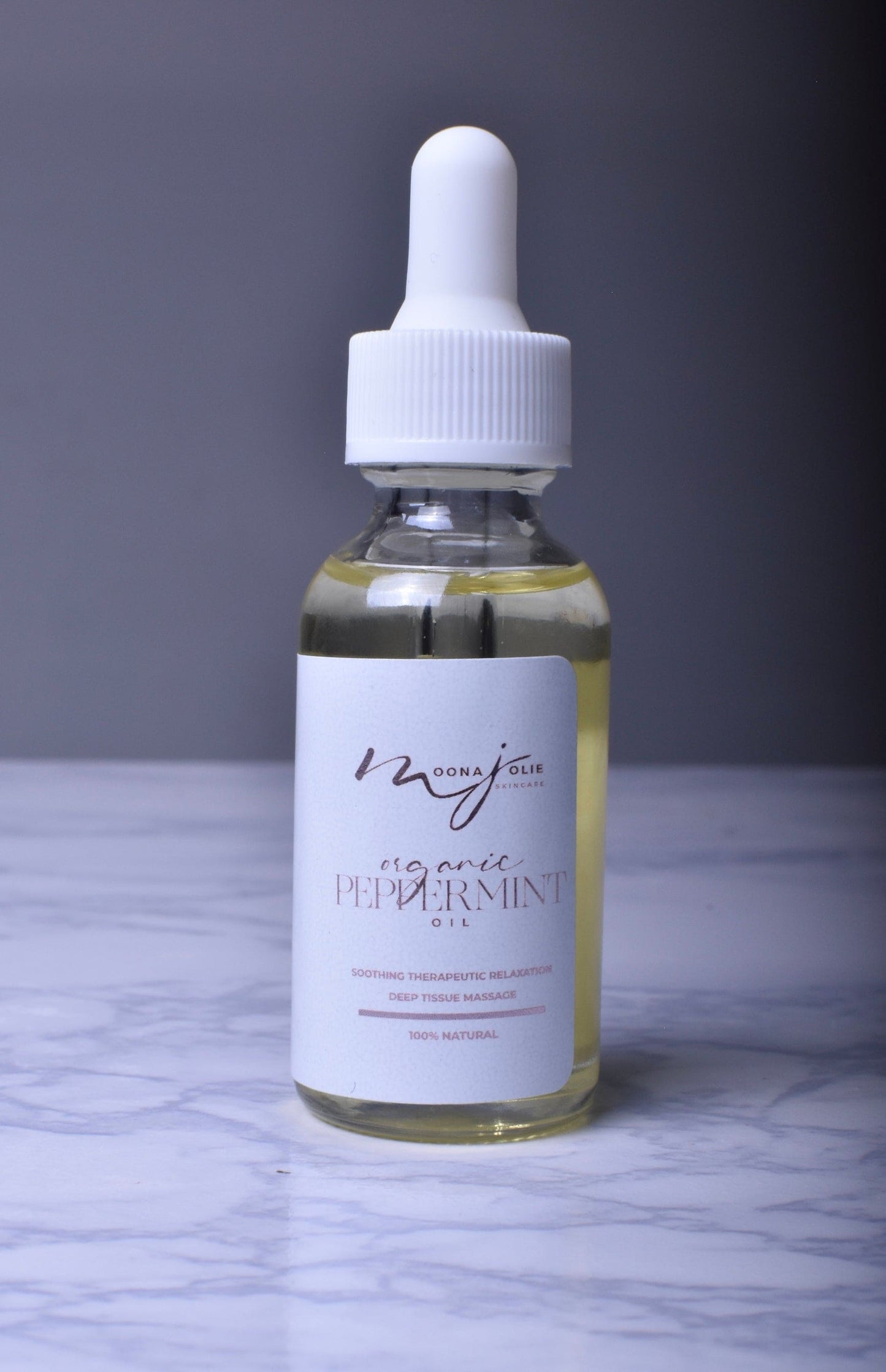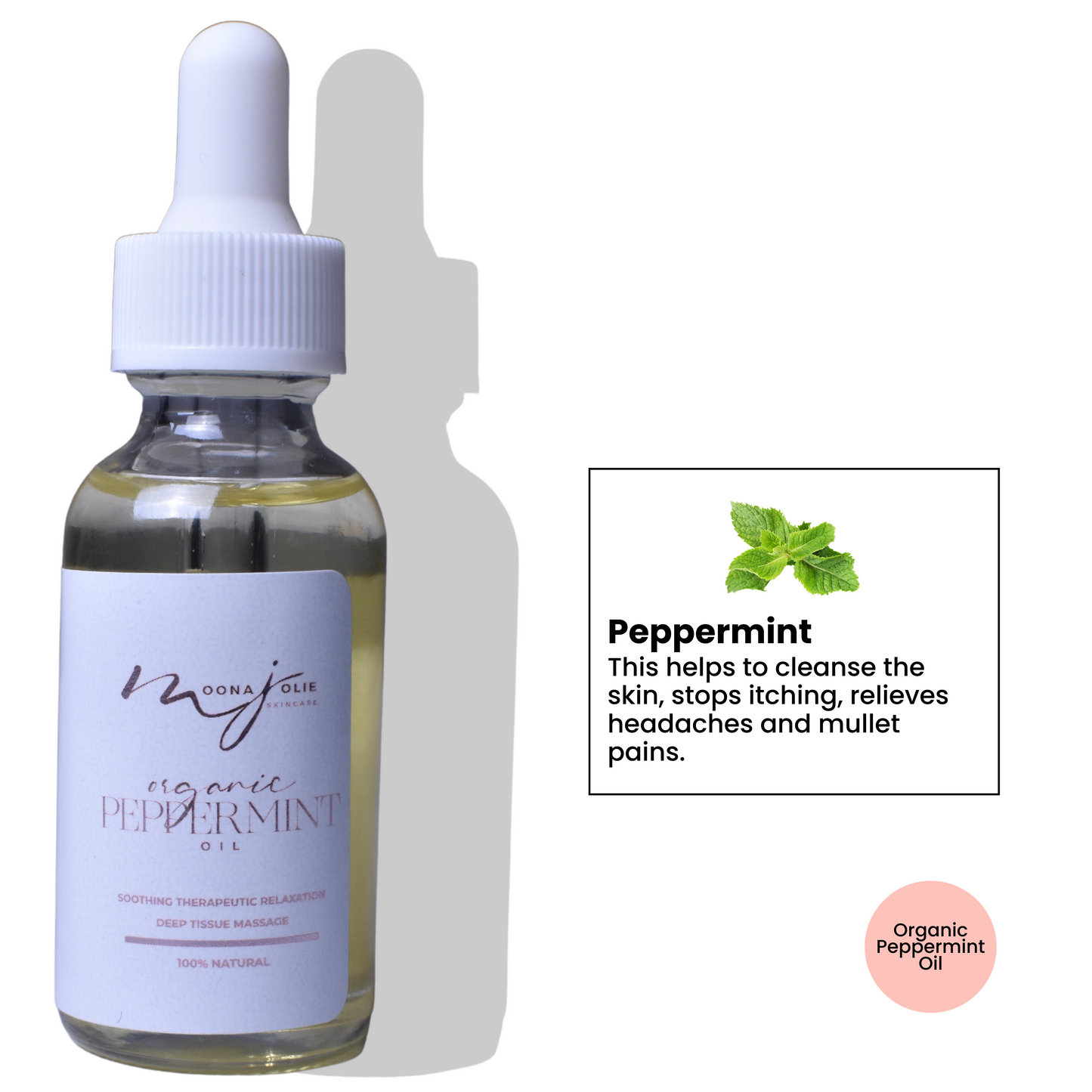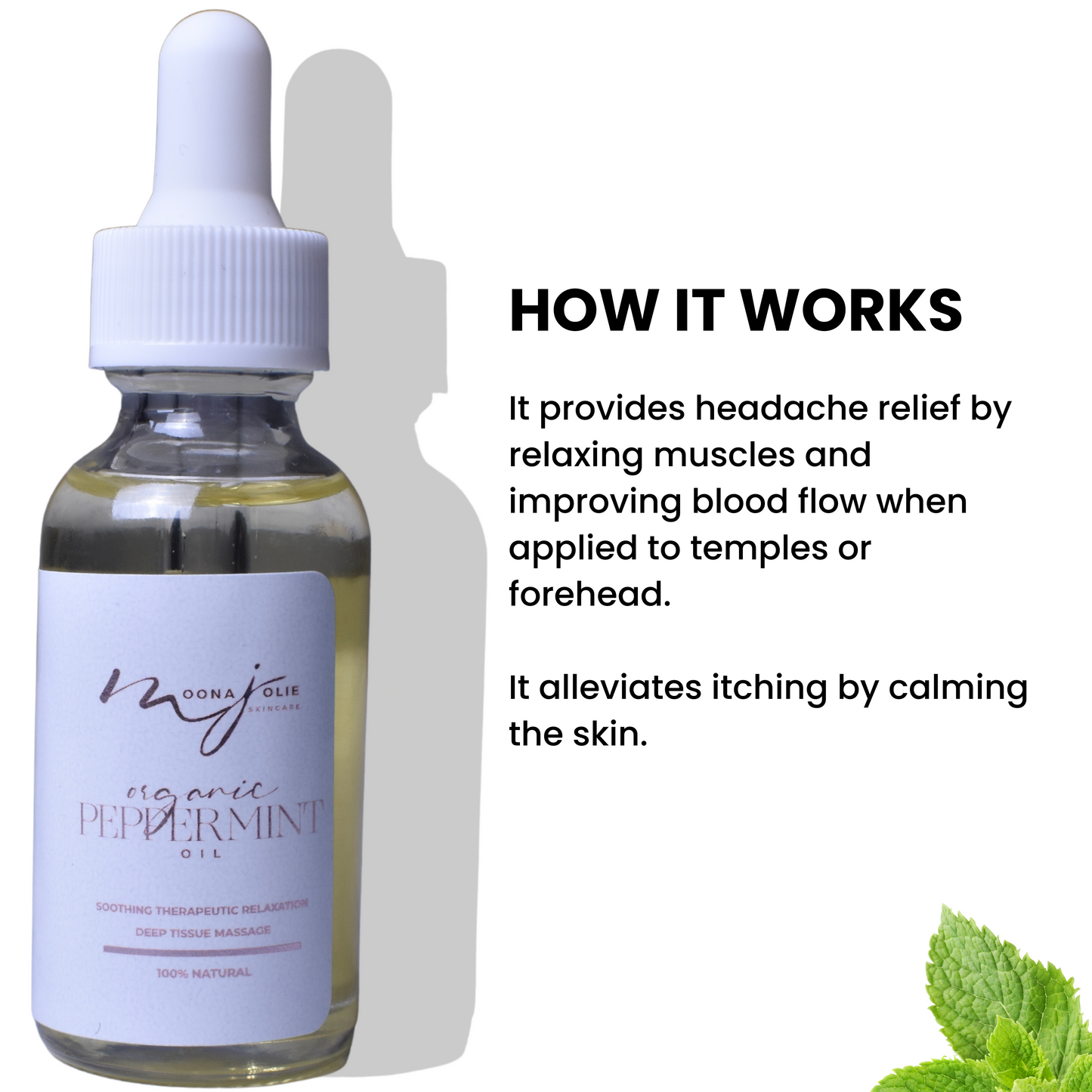 Frequently asked questions
Can I use this Peppermint Oil internally or ingest it?

No, we do not recommend ingesting or using this product internally. Our Peppermint Oil is specifically formulated for topical use only. Using it internally can have adverse effects and is not intended for consumption.
How should I dilute the Peppermint Oil for topical use?

Peppermint oil is highly concentrated, so it's important to dilute it before applying it to the skin. Mix a few drops of Peppermint Oil with a carrier oil such as coconut oil or almond oil.

A recommended ratio is 2-3 drops of Peppermint Oil per teaspoon of carrier oil, but you can adjust the ratio based on your preference and skin sensitivity.
Can this Peppermint Oil be used for children or during pregnancy?

It's advisable to consult with a healthcare professional before using Peppermint Oil on children or during pregnancy.

While Peppermint Oil is generally considered safe, it's best to seek personalized advice to ensure it aligns with individual circumstances and any specific health concerns.