Usually I use it after I finish my makeup, and helps look fresh all day! I do use it after my regular routine!" - Alexandria
Regular price
Sale price
$30.00 USD
Unit price
per
Sale
Sold out
☑️ Controls oil production
☑️ Brighten Your Complexion
☑️ Revitalizes dull skin
Discover Rose Glow Toner for hydrated, balanced, and youthful skin. Perfect for all skin types, this toner tackles dryness, excess oil, and signs of aging with ingredients like witch hazel and Vitamin C. Just a few spritzes set your makeup and elevate your skincare routine, leaving you radiant all day.
Share
Benefits

When using the Rose Glow Toner, you can expect the following:

Hydrated and moisturized skin: The toner helps to provide extra hydration to your skin, leaving it feeling nourished and moisturized.

Reduced oiliness: The toner's formulation can help control excessive oil production on your face, leading to a reduction in oiliness.

Increased firmness and youthfulness: With regular use, the toner can contribute to a more firm and youthful appearance, thanks to ingredients like Vitamin C that promote collagen production.

Revitalized and glowing skin: The toner helps to revitalize dull skin, leaving it looking refreshed and glowing.

Improved makeup longevity: If used to set makeup, the toner can enhance the longevity of your makeup and provide a dewy finish.
Ingredients & Benefits

Rose Hydrosol: Derived from rose petals and is known for its soothing and hydrating properties. It helps to moisturize and calm the skin, reducing dryness and irritation.

Aloe Vera: It helps to moisturize the skin, promote healing, and reduce inflammation, leaving the skin refreshed and rejuvenated.

Witch Hazel: Helps to tone the skin by tightening the pores. It can help control excess oil production, reduce inflammation, and soothe irritated skin.

Vitamin C: It aids in reducing the appearance of fine lines and wrinkles, improving skin elasticity, and giving a more youthful and radiant complexion.

Vegetable Glycerin: It acts as a barrier, preventing moisture loss and maintaining the skin's natural moisture balance.
View full details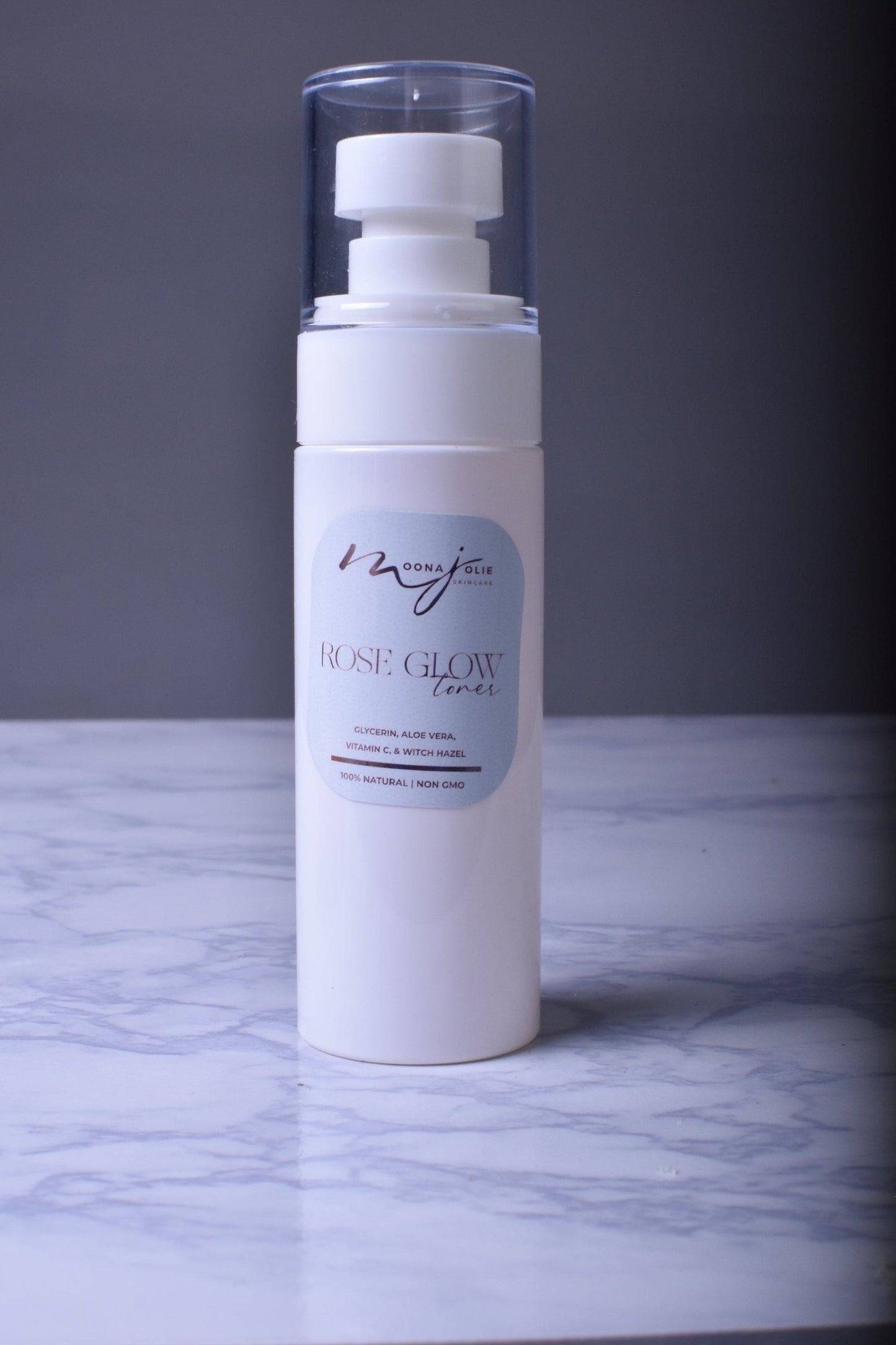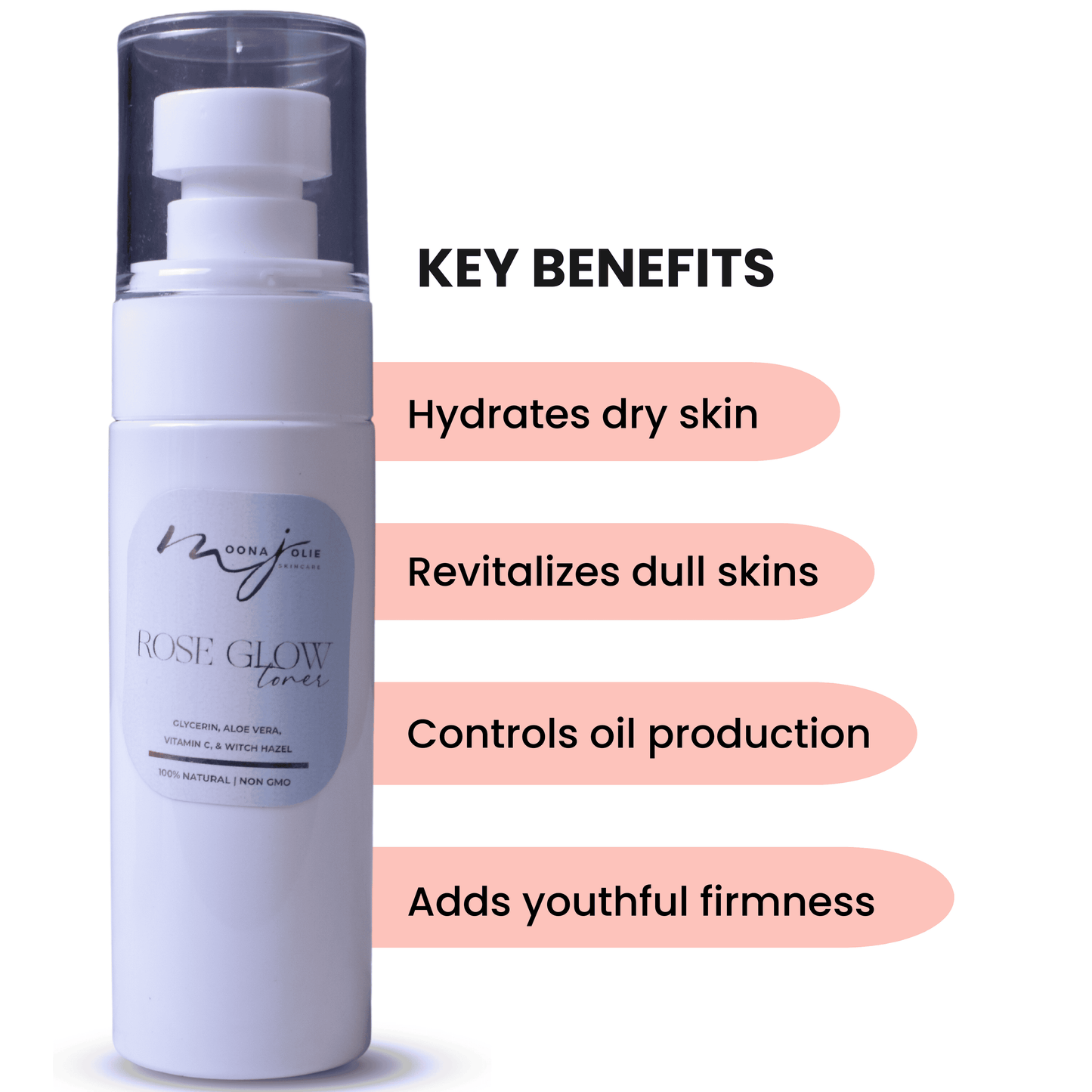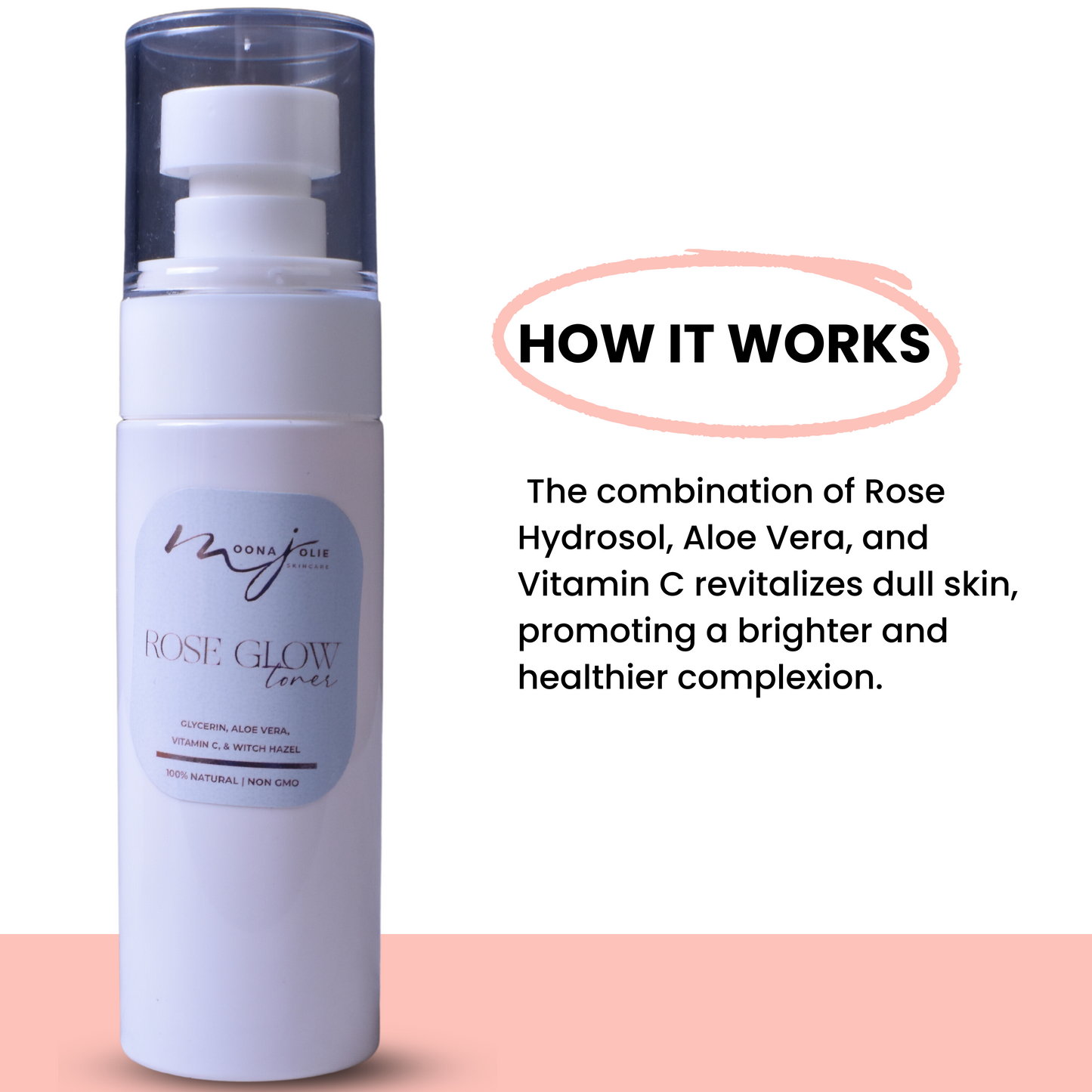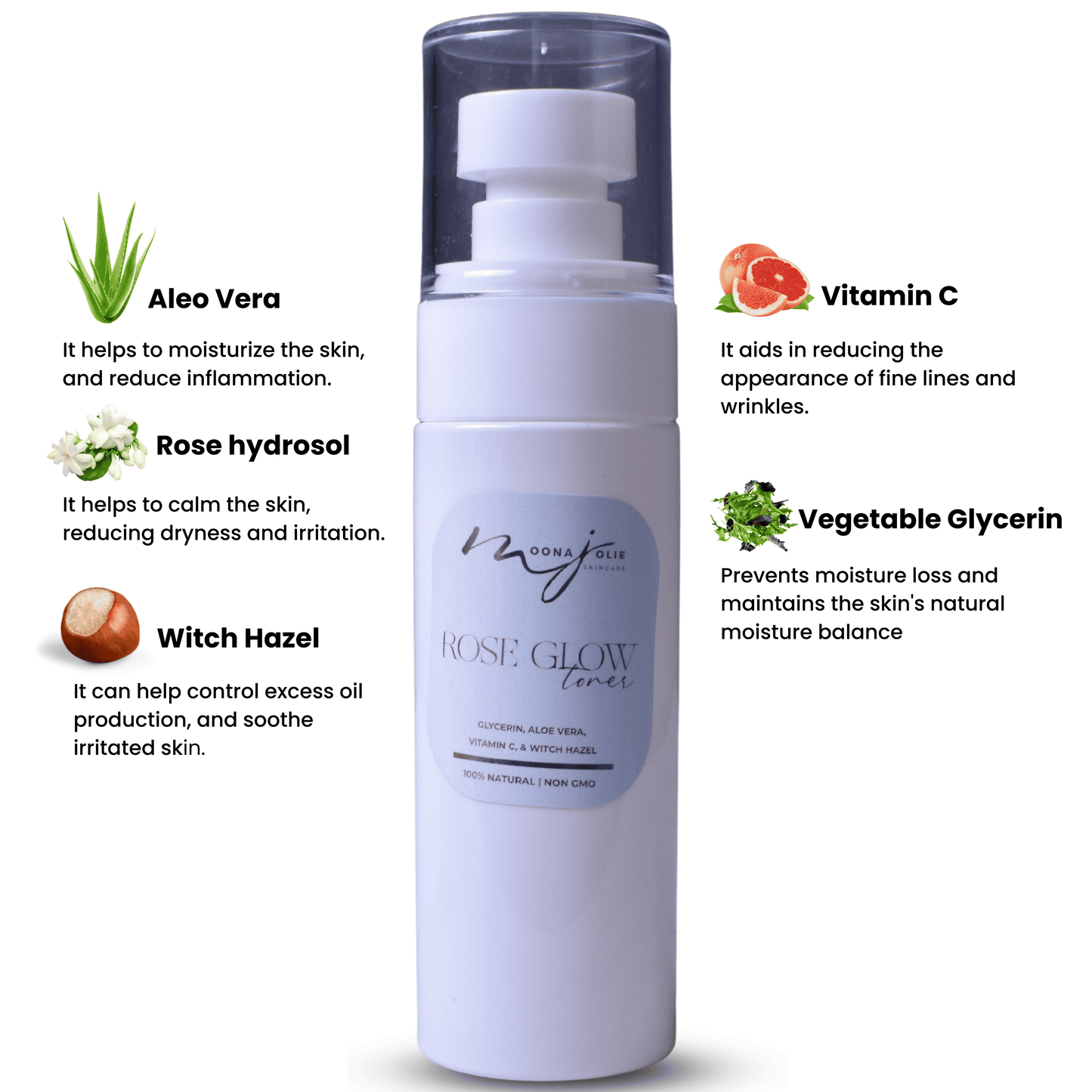 Keke Ocasio - ⭐⭐⭐⭐⭐

"I can't say enough good things about this product. My daughter gave me this brightening kit and I quickly ordered more. It did take a few weeks of consistent application but I saw a noticeable difference in a few week!"

Keisha Rocque - ⭐⭐⭐⭐

"This product is great for sensitive skin. I used it for my face and it helped clear it up. I also tried it on my face specifically my back for the dark spots from acne and it helped but it did cause it to get a little dry and peeled. Overall very satisfied. "

Amanda Pitenis - ⭐⭐⭐⭐⭐

"This product works wonders. I showed a friend my before and after photos and she thought I was pulling a prank on her and said I was not showing her pictures of the same individual."
Frequently asked questions
Can I use the Rose Glow Toner to set my makeup?

Absolutely! The Rose Glow Toner doubles as a makeup setting spray. After applying your makeup, simply spritz the toner lightly over your face to set the makeup, providing a dewy finish and improving its longevity.
Can the Rose Glow Toner help with fine lines and wrinkles?

Yes, it can. The toner contains vitamin C, a powerful antioxidant that stimulates collagen production. Regular use can help diminish the appearance of fine lines and wrinkles, promoting a more youthful and firm skin texture.
 Will the Rose Glow Toner make my skin feel greasy or oily?

No, it won't. The Rose Glow Toner is designed to balance oil production and prevent excessive oiliness. Ingredients like witch hazel help regulate oil secretion, giving you a shine-free and balanced complexion.